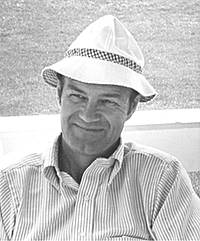 David Hardie, 86, of Longview and North Lansing, passed away Tuesday, July 10, 2012.
Dave was the eldest child and only son of Joseph Johns and Edna Muller Hardie. He was raised on Long Island and was a graduate of South Side High School, Rockville Centre.
Immediately following his high school graduation, Dave enlisted in the Army's Tenth Mountain Division, to serve his country in World War II. In 1945, Dave's unit saw extensive combat in the Italian Alps.  Safely home and decorated with a Purple Heart, he followed his plan and enrolled in Cornell University. There he enjoyed the fellowship of his Sigma Nu brothers, cemented his future career in dairy farming, and met his future wife.
Dave married Joan Caroline Dickey on August 28, 1948 in Rockville Centre. Together they shared a lifetime of laughter, friends and visions of a future no one could have imagined.
Farming came early to Dave; chickens on 65 Pine Street, summers on farms in Connecticut as a teenager and eventually, the purchase of the Brown Farm on Holden Road in North Lansing. Hardie Farms began in 1951, burned to the ground in 1960, and is now one of New York State's top dairies. His progressive view of what farming could be attracted many interesting and capable people to the farm, both as employees and as partners.  His willingness to share ownership with people other than family was revolutionary, and is still used today as a model for intergenerational farm ownership.  With close ties to Cornell's School of Agriculture and Life Sciences, the farm hosted countless classes, as well as visitors from all over the world.
Many organizations benefited from Dave's leadership skills.  His strong sense of civic duty helped propel the Lansing community forward, while his intellect and courage during difficult times helped steady the dairy industry, both locally and nationally.
Dave's joy of life was never more evident than when he was schussing down a ski slope, racing the waves with his Hobie Cat catamaran, or relaxing with the great group of friends that were so close to him and Joan.
He is survived by his three children, Skip (David Ernest) Hardie (Holly), Ann Yale (Roger) and Meg Keilbach (Eric); their twelve grandchildren; Ben, Caitlin, Joe & Adam Hardie; Julia Wang, Emily, Mary Beth & Danny Yale; Shelbi & Wilhelm Keilbach, Hannah and Abigail Overstrom; his sisters Barbara Densmore and Mary Williams (Drax); Dave's extended family, Stanley & Gloria Dickey and Anthony Swerz, and his devoted nieces and nephew.
Dave was predeceased by his wife Joan by only 1 week. Both were lovingly cared for by Longview and Hospice. Theirs was an especially incredible end of life, witnessed by many family and friends.
It is the wish of Skip, Ann and Meg for family and friends to celebrate their parents' lives in a memorial service on Saturday, July 21, 2012, 2 p.m. at the Lansing United Methodist Church, 32 Brickyard Road, Lansing, NY 14882. 
Pastor Jane Sautter will officiate.
In lieu of flowers, please consider a contribution to; Longview, 1 Bella Vista Drive, Ithaca, NY 14850, Hospicare of Tompkins County, 172 E. King Road, Ithaca, NY 14850, or Lansing United Methodist Church.
Lansing Funeral Home is assisting the family.