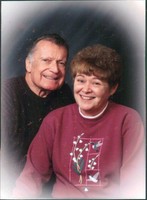 Freeville - Raymond H. Robinson, age 75, of Asbury Road, Freeville, NY passed away Sunday, April 7, 2013 at Cayuga Medical Center.
Born September 14, 1937 in Saratoga Springs, NY, he was the son of the late Harry and Edith Robinson. A US Navy veteran, Ray was a retired firefighter with the Ithaca City Fire Dept. and he also owned and operated a trucking business and was known to many as "The Gravel Hauler."
In addition to his wife, Brenda VanEtten Robinson at home, Ray is also survived by the mother of his children, Barbara Robinson; his two daughters, Mary Jo Robinson and Terry (Ken) VanAmBurg; grandchildren, Christopher Morusty, Cole and Conner VanAmBurg; stepchildren, Brian (Anna) Haner, Brandi Hammond and Brandon Hammond and their families; his mother in law, Betty Campbell of Ithaca, NY and sister in law, Evonne Sherman of Richford, NY and nieces and nephews. In addition to his parents, he was predeceased by his only sister, Edith Conley.
A memorial service with firefighter honors will be held at 11:00 am Saturday, April 13, 2013 at Perkins Funeral Home, 55 W. Main St., Dryden, NY with Rev. Richard Lloyd officiating. Burial with military honors provided by the Dryden Veteran's Memorial Home Ritual Team will follow in Willow Glen Cemetery, Dryden. Friends may call from 10-11 am prior to the service. In lieu of flowers, memorials may be directed to the SPCA of Tompkins Co., 1640 Hanshaw Rd., Ithaca, NY 14850 or Ithaca Professional Firefighters Assoc., P.O. Box 711, Ithaca, NY 14851.