By

Alison Lonsky

Sports

Print
Darren Ostrander Section 4 Wrestling Champion
Groton Senior Darren Ostrander defeated Maine-Endwell's Kobe Garrehy 4-2 during the Division II sectional championships held in Binghamton February 13 and 14th.
Ostrander earned the title Most Outstanding Wrestler on conclusion of the two-day event and brought home the first Section 4 wrestling championship title to Groton since 1979. All 30 Section 4 champions crowned earned automatic placements into the state tournament in Albany. A focused athlete, Ostrander finished third at last season's Section 4 Division II championships and set his sights set on winning ever since. Ostrander strategically gave up playing football and joined the cross-country team to train and tone up for wrestling, dropping seven pounds to compete in the 138 pound weight class.
Ostrander has also had much success running competitively. He was named ESPN's 'Fueling Excellence Athlete of the Week' and placed 51st in the Varsity A-3 race at the McQuaid Invitational. Ostrander has since taken 1st at Track & Field Sectionals and is headed to the State Championships in Albany on February 27th.
US Youth Soccer's Region 1 Prepares for 2015 Championship Games 
US Youth Soccer's NY West Region sends it's first ODP Team to the 2015 ODP National Championship Games. Groton 10th grade student Sidney Reeves will play for Region l as they compete with Region ll from Illinois, Region lll from Florida and Region lV from California for the national title. The ODP Final Four will be held in Phoenix, AZ at the Reach 11 Sports Complex from February 27th – March 1, 2015.
Groton Cheerleaders Embody Team Spirit
The Groton High School Varsity Cheerleaders received the 1st place title at the Moravia Competition and were awarded the esteemed Spirit Stick, which is given to the team that represent genuine love for the sport, positivity, and encouragement of all teams competing! The Spirit Stick is a traveling trophy that goes to the team that the judges feel represents positivity, encouragement of all teams competing, and genuine love for the sport.
"The incredible amount of time and commitment these kids have made throughout the season has been tremendous." Head Coach Kristina Chappell said, "I've truly never coached a more dedicated group of kids. They were so ready to show Section 4 IV what competitive cheerleading is all about, and they did! This team deserves all of the success they have achieved this season, not just in ribbons and trophies, but in the accomplishments they have made...Groton should be so proud of these 9 kids and the way they represent themselves, this school district, and this town!"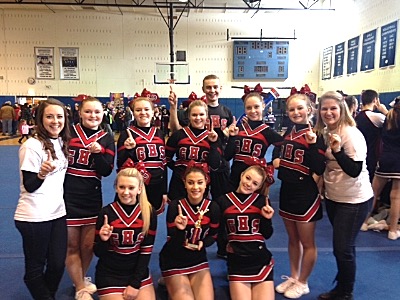 v11i9