By

Ron Babuka

Sports

Print

The Crown City Volleyball club team with Lansing Varsity volleyball players Katherine Babuka, Gianna Fezza, and Cassidy Towner competed in the 2015 TiCann Invitational in Tioga Center this March 22nd. The field consisted on 15 U-18 travel teams from New York and Pennsylvania.
After splitting the first match, the Vipers tore through their pool going undefeated in three more matches to finish with a 7-1 record. The successful pool play earned the girls a first round bye as the playoff rounds started. The Vipers first faced strong host TiCann team with in a single game elimination match. Jumping out to a quick lead, the Vipers easily outscored the host team winning the match 25-10. The win advanced the Lansing girls and the Viper team to the Gold Medal game for first place.
The first game pitted the Vipers against the U18 team from the Wellsboro Monster VBC consisting of girls recruited from the northern tier of Pennsylvania. The game became a struggle of styles, with the Monster employing a powerful and hard hitting game against the Vipers VBC team, who utilized a mixture of spikes, dinks, and well placed balls in a very even game. After a lengthy delay regarding a rotational call against Wellsboro for a rotational error, the Vipers advanced for a 25-23 win to grab the first game.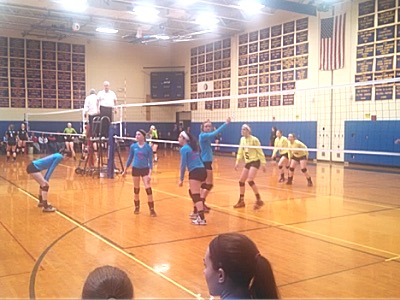 Needing a win, Wellsboro utilized a strong serving game and series of game winning spikes to even the match with a 25-15 win. At this point a days' worth of volleyball would be decided by a third game, with the first to score 15 points being the tournament champions. Wellsboro jumped out to a point lead before the Vipers regained momentum and started trading point. Unfortunately for the Lansing girls, Wellsboro was able to hold on and won the final game 15-9.
Overall the season has seen the Vipers VBC improving on their tournament results over the season. The first two tournaments saw the Vipers drop their matches in the semi-final games. The last two tournaments have seen the Vipers advance to the championship games against talented opponents in pool and final play.
v11i13