By

Jamie Ferris

Sports

Print

Wednesday November 4, Watkins Glen - Class C Sectional Preliminaries were held at the Watkins Glen Natatorium tonight; with over 120 athletes from 8 schools that make up the Section IV Class C ranks for Girls Varsity Swimming and Diving.
The LadyCats of Lansing are the 2013 & 2014 defending Section 4 Class C Champions. Looking to carry on the winning legacy and make it 3 in a row, Coaches Diane Hicks-Hughes and Shelly Matheny set up their varsity swimmers to competed strongly to be sure they had a large contingent represented at the finals.
Diving Finals are in Elmira on Friday November 6
th
and Swimming Finals are in Owego on Saturday November 7
th
.
Qualifying for Lansing by event was as follows.
200 Medley Relay
:
Championship Final – Lansing A Relay – 2
nd
Seed
200 Freestyle
:
Championship Final – Lizzy Drake (SR), 2
nd
Seed
Krista Taylor (JR) , 6
th
Seed (Tied)
Katie Barr (8), 6
th
Seed (Tied)
Consolation Final - Lexi Ryan (JR), 15
th
Seed
200 Individual Medley:
Championship Final – Grace Ferris (JR), 1st Seed
Laura Ferris (FR), 7
th
Seed
Consolation Final - Tori Swanson (SR, Capt.), 15
th
Seed
50 Freestyle
:
Championship Final – Katie Weaver (JR), 2
nd
Seed
Paige Kieper (SR, Capt.) , 3
rd
Seed
Caroline Dennis (SO), 6
th
Seed
Consolation Final - Megan Matheny (10), 10
th
Seed
Diving
:
Championship Final – Megan Matheny, 2
nd
Seed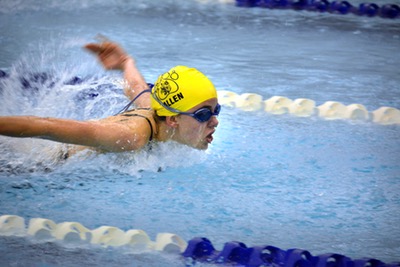 100 Butterfly
:
Championship Final – Katie Weaver (JR), 1
st
Seed
Marin Allen (SO), 3
rd
Seed
Jackie Brown (SO), 4
th
Seed
Laura Ferris (FR), 7
th
Seed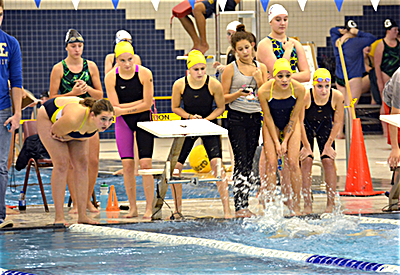 100 Freestyle
:
Championship Final – Caroline Dennis (SO), 3
rd
Seed
Libby Weaver (FR), 5
th
Seed
Katie Barr (8), 8
th
Seed
Consolation Final - Krista Taylor (JR), 10
th
Seed
500 Freestyle
:
Championship Final – Jackie Brown (SO), 3
rd
Seed
Lizzy Drake (SR), 5
th
Seed
Consolation Final - Lexi Ryan (JR), 13
th
Seed
Michelle Romano (JR), 1
st
Alternate
200 Freestyle Relay:
Championship Final – Lansing A Relay – 3
rd
Seed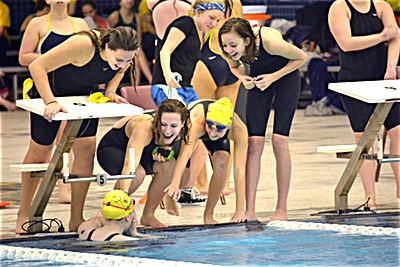 100 Backstroke:
Championship Final – Paige Kieper (SR, Capt.) – 1
st
Seed
Marin Allen (SO) – 3
rd
Seed
Libby Weaver (FR) – 5
th
Seed (Tied)
Consolation Final - Tori Swanson (SR, Capt.), 11
th
Seed
100 Breaststroke
:
Championship Final – Grace Ferris (JR) – 2
nd
Seed
Consolation Final - Amanda Van (SR), 9
th
Seed
Madi McMillen (FR), 2
nd
Alternate
400 Freestyle Relay
:
Championship Final – Lansing A Relay – 2
nd
Seed
v11i43