By

Shannon Coffin

Sports

Print

The Finger Lakes Regional Hockey Association Central Outlaws Squirt team took home the Championship trophy March 24-26 in the "House "Select" & "AA" Squirt/Atom Travel Team division in the PEPSI Tournament held in Buffalo, NY. They finished with a 4-0-1 record and hosted the Pepsi Trophy when the final buzzer went off! The Outlaws battled Eastern Ontario, West Seneca and the Southtowns Stars in the round robin portion of play.
The team took care of business in the first game vs. West Seneca with a hard fought 7-4 win. Nick Oplinger was solid in the net and Dane Sciarabba and Cole Atwater with 2 goals apiece to lead the way. The second was to be a battle right to the finish; it was a 2-2 tie with Southtowns Stars; this time solid goal tending from Jacob Fifield and both goals put in by Henry Jackson. The Outlaws finished the round robin play with a 5-3 win versus Eastern Ontario. Brady Coffin and Henry Jackson lead the way offensively for the Outlaws to help send them to the Semi Finals vs. Amherst.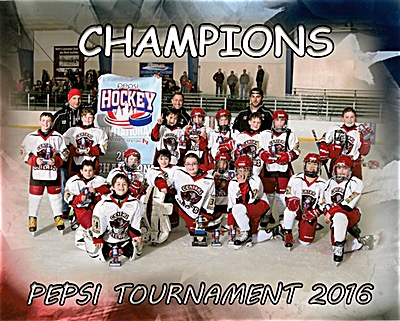 The Outlaws went into the Semi Final round as the number 2 seed and had a battle on their hands with Amherst. The team jumped out to a nice 4-0 lead with first goal coming from the Trevor Walden; then the break between the 2nd and 3rd period cooled them off and ignited the Amherst offense. Amherst came out on fire and scored 2 quick goals within the first 2 minutes of the 3rd, they put in another one shortly after. The Outlaws were able to regroup, gain their composer and move onto the Championship game that afternoon.
The Championship game was against the Jordan Lions out of Ontario who came into the game only giving up 2 goals the entire weekend. The game started out with the several different Outlaws peppering the Jordan goalie but just couldn't get the puck by him. Finally in the middle of the first an Outlaw defender, Ben Wakshlag let one rip from the blue line and hit the upper corner for the first goal of the game. The second period the Outlaws were able get another one past the Jordan's goalie to go up 2-0 heading into the 3rd. The 3rd period had everyone on the edge of their seats; it was back and forth the entire period. With a minute left the Outlaws (Cooper Holliser) put in another to seal the deal! They were ending their season and made the drive home as champions.
Coach Jay said, "Seven month ago we sat in a locker room in Canandaigua and all the kids and coaches had a look of deer in headlights for the first game. Seven months later they sit in a locker room as champions."
The FLRHA Central Outlaws are based in Lansing, NY.
v12i13