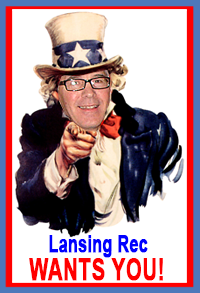 The fall Lansing Recreation Department season is only a week or two away, but Recreation Director Steve Colt still needs coaches and team helpers. One of the Rec Department's most popular programs, Colt says soccer will attract around two hundred young athletes this year, K through 6th grade. But there are no teams without coaches, and getting parents and other adults interested in helping is his main focus right now.
"The engine that drives this program is our parents. They have always been, and hopefully will continue to be what drives this as coaches, assistant coaches and helpers. Sometimes you have years when they're waiting to do it. Sometimes you have years where they might like to do it, but haven't signed up for it. So you have to begin to make them feel comfortable with doing it. And you know what? They always do a great job."
Colt says you don't have to be an expert or even a sports fan to be a coach, assistant coach or helper at this level of soccer. Even someone with no experience who is willing to help is encouraged to participate. The key qualities Colt is looking for are people who can handle a handful of children, keep them safe, and most of all, make sure they have fun.
"The most important thing for me is that a person is a good quality person, parent, grandparent or whatever that can handle kids well and keep them safe and make sure they have fun," he says. "It's so basic at our level. They don't have to be knowledgeable. We'll give them the materials and we'll help them to learn the Xs and Os of it."
Players are divided into four leagues: Kindergarten, 1st/2nd grade, 3rd/4th grade, and a 5th/6th grade league. Last year that meant eight teams in the 1st/2nd grade league, and six teams in each of the other three leagues. Each team has six or seven players.
"The roster sizes are so small. It's good for learning. It's the same as the ratio in any classroom -- you can teach six better than you can teach 16. Thankfully our roster sizes are in that 6 or 7 per team range. What that means is you need to find more people, because if you only half as many adults the roster sizes have to be 12. We're really not set up for that because our field sizes are small. So we need to find the people," Colt says.
Parents have children on a team, so many will be on the field anyway. The time commitment outside of the 11 scheduled sessions is close to zero -- there is one orientation meeting tentatively scheduled for next Wednesday (August 31) evening. At that meeting the rules are reviewed and equipment handed out. Practices and games are rolled into the two nights per week sessions. Each session is about an hour and a half long, twice a week -- Mondays and Wednesdays for some teams, and Tuesdays and Thursdays for the rest. Sessions start with 'skills and drills' at which the young athletes learn techniques and practice them. Every session ends with a game.
While it is nice to have adults experienced in soccer, it's not required. Colt says many parents start at K level, then progress through the age groups with their kids, learning more each year just as the kids do. More experienced parents share their knowledge and help with newcomers. He notes the opportunity to bond with your children and their friends is valuable and rare.
"In the big picture, the people who help have a special relationship with their kids and all the friends of their kids," he says. "They're at a different level with these youth athletes than the people who don't help. When they've go through the the whole program they look back and remember these times, because you'll never be as close to your kids and their friends as you are in this scenario. When school sports start you go from being an active participant to being in the stands."

One of the benefits of the program is that the kids progress through it, learning a similar philosophy to that used Modified and Varsity teams in the schools. Varsity coach Adam Heck holds a soccer camp each summer from which the kids progress through the Rec Department programs, then the Modified teams in middle school and Varsity in high school.
"If you look at the soccer community as being one big community, Adam is very wise," Colt says. "He plays a special role in that and plants the seeds for his own harvest down the road. His relationship with us and the soccer community -- he's all in for all of it. Obviously something's working. he's been to the State Championships more times than you can count, and has a great reputation within the state. He gets it."
Meanwhile Lansing has signed up a record number of YFL Small Fry football players following a thin year last year. The junior team has close to 30 players, and there are around 20 on the senior team.
"With a junior team of 28 to 30 it's great, but it also puts a lot of pressure on the coaches to be able to coordinate how to get kids in and out of the games because there is a must-play rule," Colt says. "It's a good thing, but you have to have good traffic control. Luckily we've got really good coaches and assistant coaches for both our teams. That's a big priority and we're in good shape there."
That leaves soccer coaches and helpers as Colts #1 priority over the next few days. Colt says the point is to get the kids to "fall in like" with soccer so they will "fall in love" with it as they get older. He says that if you have ever held a birthday party for your child at your house, you can easily coach youth soccer with such small team sizes. Adults who are nervous about helping at first are the ones who say they wish the season went another week when the season is over.
"This is a great thing," Colt says. "It's social. For the Kindergarten and 1st and 2nd grade teams, it's probably one of the best parental and kid mixers in town, outside of school. On our nights out here when the weather's really nice they don't want to leave at the end. In the whole scheme of things it's a snapshot of the time when you get to be with your kids. You're without them more than you're with them in the big story of life. People who do this never regret that they did it."
v12i33