Bundled up and dedicated fans enjoyed watching Lansing Varsity Boys Soccer win NYSPHSAA Class C State Championship Title for the second consecutive year on a chilly but sunny Veterans Day in Middletown, NY. Heading into the Final Four weekend, the Bobcats had a 19-1 record. Their only loss, 3-1, was to a Class B school, Oneonta, during the Strong as Heck Festival in Oneonta on September 15.
Post season play started with the Section IV championship match held at TC3 October 29 against Trumansburg. This was a rematch of a regular season game played at Lansing when Lansing prevailed 2-1, one minute into OT. Senior Langston Hopkins was responsible for both of those regular season goals. For the Section IV Championship match, Langston Hopkins got Lansing on the board with 14:27 left in the half to 1-0. Lansing maintained this lead to move the Bobcats onto the Regional championships. ESPN Player of the game was Langston Hopkins who had the lone goal.
Regionals were held at the HOF grass fields in Oneonta versus South Lewis of Section III on November 3. The weather and field conditions did not support the many attempts at hitting the back of the net by Lansing as both team's players were sliding all over the field in the mud. Scoreless at half, finally Junior Alex Rose nets the first goal with 27:30 left to play in regulation. Six minutes later, Junior Mason Edwards has one himself creating a 2-0 lead and securing a trip to Middletown and a chance to win a second State Championship. Lansing had 34 shots, 15 on target. ESPN Player of the game was Mason Edwards.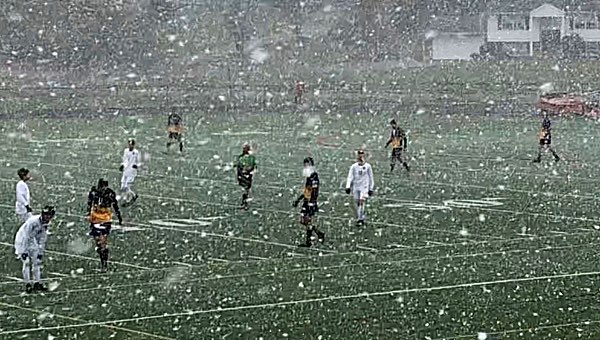 Saturday, November 10, the semi-final started out cold and sunny. Quickly fans and players experienced winds, sleet and snow squalls. Playing on turf due to grass fields being unplayable with the wet weather leading up to the semis, our opponent Madrid-Waddington, Section X, took a 1-0 lead 2:30 into the first half. Assisted by Junior Joe Besemer, Junior Eli Bartholomew scored the equalizer at 17:30 and the game was tied up at half 1-1. Midway through the second half, assisted by Mason Edwards, Eli Bartholomew has another for the go ahead goal for Lansing. With 14:36 left in regulation play, a volley off a corner kick by Joe Besemer, Eli Bartholomew came up with a hat trick to pad the Lansing lead 3-1. This carried them to victory and the final. ESPN Player of the game was Eli Bartholomew.

The Final game versus Section V Geneseo was held on Veterans Day, Sunday, November 11, in Middletown. It was here that Lansing repeated as back to back champions dominating Geneseo 3-0. At 7:55 minutes into the game, off a through ball by Senior right back Aidan Hulsebosch, Senior Erik Goehler snuck the ball past the keeper creating a 1-0 lead that was held into the second half. Junior Matt Weil, a center back, gets a clean up goal off a corner kick by Joe Besemer, assisted by Junior Kyle Romeo, with 14 minutes left in regulation play. Five minutes later, Senior Matthew Kirkwood gets a rebound goal off a Langston Hopkins attempt to secure and keep the 3-0 lead. Lansing dominated the entire game with 39 shots on goal versus 6 for Geneseo. ESPN Player of the game was Matt Weil. Additionally, Erik Goehler was named MVP of Class C Final Four weekend by the coaches.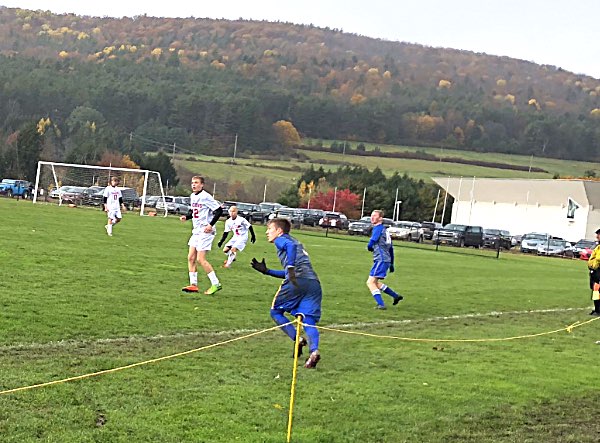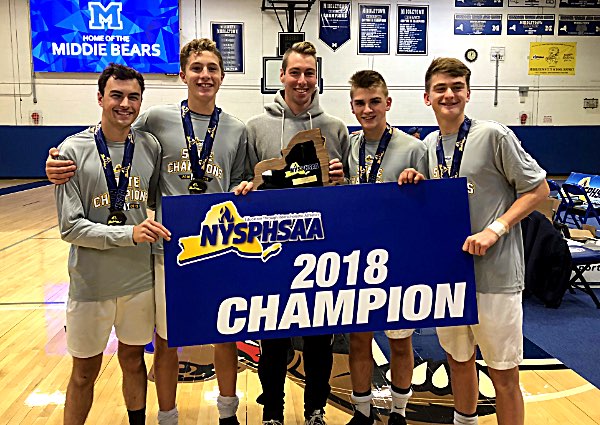 The Bobcats, led by head coach Benji Parkes, coaches David Schlesinger and Andrew Triosi and helper Kenton Edwards, finished their season 21-1-0. Throughout the season, the Bobcats limited opponent opportunities allowing only 13 goals, kept control in the midfield and produced 104 goals. The primary goalkeeper, Junior Sean O'Callaghan, saved over 70 attempts.
The team was supported by repeat ball boys, Caden Haslinger, Tyler Smith and Jackson Tarbert. Team videographer was Andrew Galvin. Team photographer is Randy Suwara.
Team members:
Seniors: Erik Goehler,Langston Hopkins, Aidan Huslebosch, Matthew Kirkwood, Phillip Linnick, Jason Littlefair, George Taylor, Ethan Zemanick.
Juniors: Eli Bartholomew, Joe Besemer, Aidan Burt, Ethan Burt, Mason Edwards, Ben Infante, Tristan Lyndaker, Sean O'Callaghan, Sam Panzer, Gill Richardson, Kyle Romeo, Alex Rose, Gavin Suwara, Julian Tornusciolo, Matt Weil, Sean Wenzel.
Sophomores: Jack Collins, Kyle Reid, Morgan Somchanhmavong.
Freshman: Tomas Vence.
Post championship games, Matthew Kirkwood was recipient of Lansing's Sportsmanship award. Erik Goehler and Langston Hopkins were named All State players.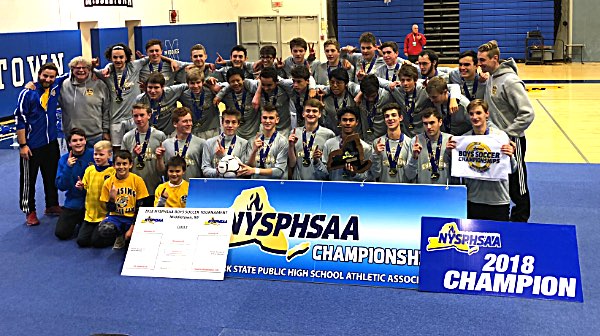 Additionally, Interscholastic Athletic Conference (IAC) North Large division comprised of Lansing, Dryden, USPB and Whitney Point) named it's annual teams this past week:
First team – Seniors, Erik Goehler, Langston Hopkins, Ethan Zemanick, and Juniors, Mason Edwards, Matt Weil.
Second Team – Seniors, Aidan Hulsebosch, Jason Littlefair, and Juniors, Joe Besemer, Ethan Burt.
The IAC North Large division MVP was Erik Goehler, named by all of the coaches.
v14i45