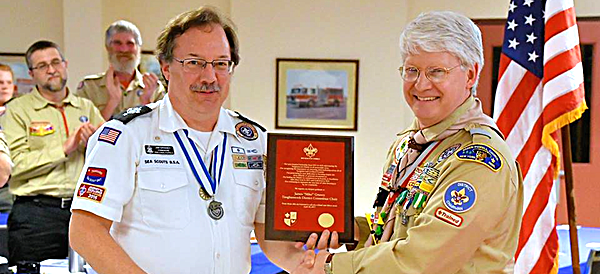 Local Boy Scouts celebrated the success of their hard-working volunteers at their annual dinner on Friday, April 28, 2017 in Dryden. Adult leaders and scouts from the scouting groups in Tompkins and Cortland Counties came together to celebrate another successful year. Those successes for the two-county Taughannock District included increased youth membership from 2015 to 2016, 20 Boy Scouts earning their Eagle Scout award, one Sea Scout earning the Quartermaster Award (the highest award in Sea Scouts) and thousands of hours in community service.
Callie Kaplan-Wright of Trumansburg, the Sea Scout Quartermaster Award recipient, also received the Order of the Gorget, a local recognition of the youth member who had done the most for Scouting in the past year. Michael Stoll, a scouter with over 40 years of service to scouts throughout the two counties as well as Roman Catholic scouts, was awarded an honorary Gorget for his extraordinary effort in working with all levels of scouts.
Kathlene Gross, the District Recognition Chair, noted that an important part of adults helping scouts is undergoing training to help support young people in creating their own supportive community. She helped recognize Debora Huber-Hwang from Lansing, Henry Smith, Geoff VanFleet, Derek Groat, Steven Lantz, Kathleen MacKenzie and Dawn Thornton from Ellis Hollow, Leah McMullin from Homer and Jim Graney, Lisa Kalpokas, Regina Noyes and Edward Plesnar from Ithaca's Ship 25 as completing key training to support local scouts.
The District recognized Rick Burt of Homer's Cub Pack 85 and Dan Wakeman of Troop 55 with the Unit Leader Award of Merit. Among other things, Troop 55 won this year's District Winter Camporee competition, taking home the famous 'Taughann-Duck' award pole.
Various units recognized adults who were 'spark plugs' to their continued success, including Matt Williams from Groton, Doug Fink from Lansing, Floyd Ayers, Aubree Lynch, Lindsay Groat and Joah Tang from Ellis Hollow and both Mike Stoll and Pamela Wik-Grimm from Ship 25.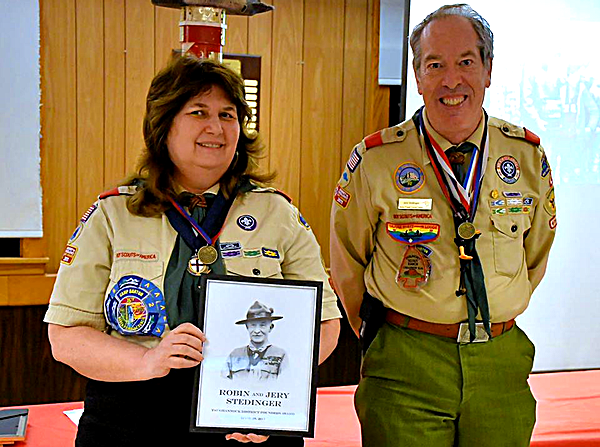 Liam Murphy, District Chair, applauded Transonic Systems, Inc. of Lansing, noting "they kindly allowed scouts to campout on their property twice in 5 years so scouts could campout near the Ithaca Airport and learn about aviation and get actual flights." The District thanked that extraordinary support with its "Good Turn" award.
Jery and Robin Stedinger of Cayuga Heights have provided outstanding leadership to Pack 4 and Troop 2 in Cayuga Heights for nearly three decades. The District recognized them with its local 'Founders Award.'
Groton's Pack 10 and their leader, Shana Snyder, received the District Commissioner's Outstanding Unit Award for its amazing rebound in the past year and its ceaseless community service in and around Groton.
Taughannock gave the District Award of Merit to the recently retired scoutmaster of Marathon's Troop 90, Nelson Jeffrey. Mr. Jeffrey was recognized for his consistent support of scouting in Marathon, volunteering at events like the Maple Festival, as well as his kind, consistent helpful support of many district events and Scouting's jewel on Cayuga Lake, Camp Barton.
The District also recognized the recent awarding of Council's Silver Beaver Award to Michael Hughes of Little York. Col. Hughes volunteered leading the District twice in the past decade and served youth at all levels of scouting.
v13i18