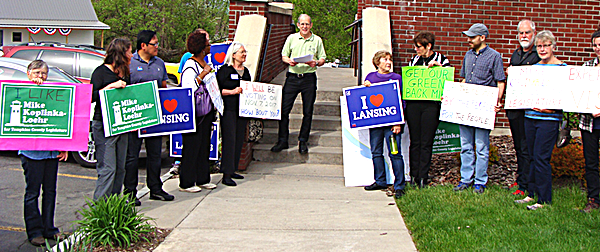 About 15 supporters joined Mike Koplinka-Loehr (D) outside the Lansing Community Library Monday when he announced he will be running for Tompkins County Legislature. Koplinka-Loehr will be challenging incumbent Mike Sigler (R) to represent most of the Town of Lansing (outside of the Village of Lansing). He told his supporters that he is running for the Legislature because he can deliver results, and has a record of delivering results for Lansing residents in a variety of roles.
"I am running to represent all the people of District 6 on the Tompkins County Legislature starting in 2018," Koplinka-Loehr said. "If I had to summarize why I am running in one three letter word, it's 'you' -- Lansing residents. There are approximately 7,000 residents in the District, and I'm going to work diligently over the next six months to connect with as many as possible, to listen, to learn, to share my experience, my legacy of integrity, and the results that I have already brought to Lansing residents to face the challenging times ahead."
Koplinka-Loehr says his experience on and off the Legislature makes him the most qualified candidate, and repeated that he is listening to Lansing residents and plans to represent all of Lansing. His platform includes keeping taxes low, serving youth, and promoting energy savings,
"I've been working for change for 35 years of my career, both in non-profits and the government sector. So in terms of how I am positioned to represent Lansing very persuasively, very creatively, with partnerships, with collaboration. I am not one-issue at all. I'm not even one party. I'm really reaching across the divide to say who can represent all of Lansing, not just one set of ideas, one set of values. I have results. I've got experience and expertise showing that I've done that."
He says that experience includes reducing county taxes when he was on the Legislature, and a resume of achievements more recently in Lansing, including representing the Lansing Central School District on the BOCES Board, serving on the Lansing Community Council, Economic Development Committee, and Bicentennial Committee, assisting on the school district's solar array project, working on a feasibility study and economic impact study of the Cargill salt mine, an energy efficiency study and a central heating district feasibility study for the Town.
Before moving to Lansing he was the District 11, Town of Ithaca representative on the County Legislature for 12 years, including chairing the Legislature in 2008 and 2009. Koplinka-Loehr says he hadn't planned to run, but was encouraged by residents to throw his hat in the ring.
"I realized during these times, given what's facing Lansing we really do have to come out, stand up, show up," he says. "It's our 200th anniversary. We've got a lot to be proud of and we've got a lot to preserve. I hope to preserve that going forward for the next many decades. I won't be around for 200 years, of course, but but this is a community that we all can love and also work hard to preserve and enhance."
Koplinka-Loehr says that while he believes in migrating to renewable energy, natural gas has to be viewed as a transition fuel. He views the uncertain fate of the Cayuga Power Plant and the moratorium on new natural gas customers in Lansing as threats to the Town.
"We do have to have a transition," he says. "We have to have natural gas. We have to have renewables. We have to have people understanding their impact daily whether they're commuting, how they're using resources in their homes. It's all of the above."
"I think people have to have fuel," he continues. "Since natural gas was found in Pennsylvania we've been using it. It's a great resource in terms of powering us, and it's also ruining our planet. So we have to understand that it's a transition fuel at this point. We want to decrease that. We want to increase renewables. We want to increase our insulation. It's an understandably challenging issue, but I think Lansing residents deserve natural gas, but we also deserve to curb excessive use. I worked on a program that was county-wide to decrease fossil fuel use in every single home in Tompkins County. I delivered bags personally to Lansing homes, with energy efficiency savings."
He notes that Governor Cuomo wants all coal-powered plants closed by 2021, and cites the need to lobby Albany as well as local governments in Tompkins County to support keeping the Lansing plant open.
"I think it's being pro-active, as opposed to being reactive," he says. "It's reaching out to our representatives, whether it's in Albany, and even in Tompkins County here. Going door to door. understanding the concerns of the people and speaking about those concerns. Getting people out, engaged... (to) understand what can the County do for you? How can you make a difference? That engagement is what will make a difference in Lansing. All those issues will require that kind of engagement."
Koplinka-Loehr says he will build on former Legislator Pat Pryor's record of communicating county matters back to the Town government, with regular appearances and reports at Town Board meetings. Acknowledging that Sigler has done that he says he will take it further.
"I will certainly continue Pat's legacy," he says. "I think Mike learned from Pat. I appreciate that he realized in his second term there was something he had to increase in terms of communication. I also think I can send newsletters, right to people's homes. Not everyone can come out to a meeting. Not everyone can read (the newspaper)."
Throughout his announcement Monday Koplinka-Loehr stressed that he wants to get people involved in issues that matter to the Lansing community.
"You have to get to the people, whether it's forums -- I was on the Economic Development Committee here in Lansing and I pressed and pressed and pressed for forums about whether we should have a sewer... how we could configure it... how we could fund it. Those are important issues that I think getting out to the people is critical."
v13i18