Numbers are not an issue this year with Lansing Track and Field. Both squads boast a high volume of kids, eager to return to action or get started on a promising track and field career.
Indoor track took a major step towards Outdoor success under Scheffler and Ames this winter, with Scheffler coaching the sprints/jumps and Ames, Middle Distance and Distance. Sending 12 kids to states was a remarkable feat in it self. We broke a 10 year old Section 4 record in the 4 x 200m girls relay (Chloe Ryan, Lindsey Petry, Anna Mapes, Kathryn Hornibrook) and placed 6th overall in the state up against mostly NYC schools. The Boys 4 x 800m Relay team of Eddy Potter, Josh Barber, Walker Diebolt and Henry Potter, pulled a major upset over perennial powerhouse Corning to move onto the state meet, cruising to victory by over 20 seconds! We were doubted all season, but showed up when it counted.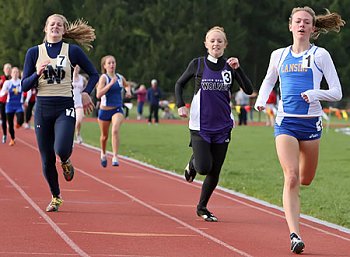 Ryann Cretney runs for Lansing
The Boys and Girls sprint/jump programs are off to a fast start. Seniors will play an important role in developing the younger athletes into strong sprinters. Matt Scheffler has worked diligently getting these kids prepared to face some tough competition in Section 4. The addition of Coach Stuttle (son of Dryden Coach Lee Stuttle) will help us tremendously. The kids really look up to Matt and Kevin. Boys and Girls sprints are talented on both sides, with Senior, Ken Tillapaugh and Freshman Soccer standout Kathryn Hornibrook expected to perform at a state level this spring.
This year, middle distance and distance is where we will shine. Over 25 kids are in the middle/distance program alone. The addition of former Lansing middle distance standout, Jeff Abbott, really gets the kids fired up to compete well. Jeff and Dave have put together one of the most highly competitive distance programs in all of Section 4. We are training at volumes most teams are unfamiliar with, which will most certainly give us a leg up over most teams. Cross town rival, Ithaca HS, knows we are good as we know they are and we are getting ready for some showdowns with them this year.
Ryann Cretney returns for her final season (Scholarship to Binghamton University to run XC and Track), chasing after a Division II state individual title in the girls 2000m Steeplechase and a chance to compete at Nike Outdoor Nationals in Greensboro, NC, this July. Currently she ranks as one of the Top 10 Girl Steeplechasers in the country! She is training harder than ever right now. I have never seen her more focused on the goals at hand.
Henry Potter and Eddy Potter, boast remarkable talents in the sport of track and field, with Eddy only being a sophomore. The range they have for an athlete is absolutely outstanding. From 400m to the 3200m they can win any invite, any day. Coach Abbott and Coach Ames are extremely excited to see them turn some heads around the section. Henry will focus on the 800m and Eddy the 1600m.
On the girls side, Junior Anna Mapes, is highly respected in Section 4. She will focus between the 400m and 800m this spring. Her potential is limitless and her work ethic is a coach's dream. Expect some big things from her this spring.
----
Coaching Staff:
Matt Scheffler – Head Boys Track and Sprints/jumps/vault
Dave Ames – Head Girls Track and Distance Coach
Jeff Abbott – Assistant Girls Track and Middle Distance Coach
Kevin Stuttle – Assistant Boys Coach/Sprints+Jumps
Top Returning Athletes:
Ryann Cretney (SR) – Distance/Steeplechase
Henry Potter (SR) – Middle Distance
Eddy Potter (SOPH) – Distance
Josh Barber (SOPH) – Distance
Ken Tillapaugh (SR) – Sprints/Jumps
Anna Mapes (JR) – Middle Distance
Kathryn Hornibrook (FR) – Sprints/Hurdles
Chloe Ryan (SOPH) – Sprints/Jumps
Lindsey Petry (FR) – Sprints/Pole Vault
Luke Davis (SOPH) – Sprints/Middle Distance/Pole Vault
Katy Bland (SOPH) – Middle Distance/Distance
Newcomers to Watch:
Cassie Palladino (FR) – Middle Distance
Jason Ruoff (SOPH) – Distance
Lansing's Main Competition:
Dryden – Deep, talented and well coached
Trumansburg – Upset us by 5 points to win Sectional title Indoors.
Newark Valley – Powerhouse Distance program, well coached. Should be a great battle from 400m and up with Lansing. We'll be ready.
----
v4i13