Last Saturday (9/17) if you went about as far North as you can go in Lansing on Salmon Creek Road you'd find bowhunters of all ages. They were there for the Lansing Bowhunter's September 3D Shoot, one of five events the club holds each year for practice, recreation and to raise money for the club.
In a 3D shoot, archers follow a trail in the woods, marked with ribbons. When they come to a target there are stakes in the ground at varying distances for different classes and age groups to shoot from. The targets are three dimensional rubber animals, set in realistic poses in the woods. Targets are made of high density rubber foam that is self healing so they can be used over and over. Shooters get five points for hitting the animal, and rings on the target are worth eight and ten points. The bullseye is worth 11 points. Many of the targets are sponsored, with a wooden sign telling shooters who sponsored that particular station.

The Lansing shoot had 30 targets arranged over two courses in the woods. Archers kept score as they followed the course. The winning scores earned trophies. "Each course we have, it's never the same. So if you shot earlier this year you won't see the same course again," says John Huether, Vice President of the club.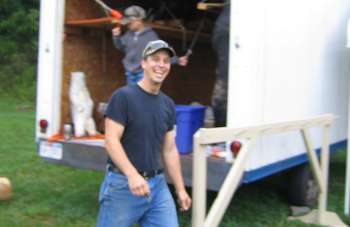 Club Vice President John Huether
The club was established in 1976. Originally the target shoots used bales with paper targets. Around ten or so years ago they switched to 3D targets, because they are more realistic. Targets look like deer, bear, owls and goats. They mix up the targets for different events. In their trailer they had targets used in other shoots including turkeys, an alligator, a snake, and a beaver. There was even a skunk.

| | |
| --- | --- |
| Archers register | Club President John Colbert takes aim |
The club holds four outdoor shoots in June, July, August and September, plus an indoor "Cabin Fever" shoot at the FIELD on East Shore. They also hold raffles. The proceeds provide funding for targets and equipment. Members each have their own bows. It costs $150 to sponsor a target for the year and the club is always looking for new sponsors.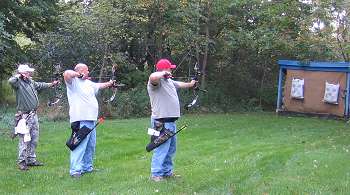 Archers take aim on the practice range before walking the courses
"Every weekend there is a bow shoot somewhere in New York State. Some weekends there are more than one," says Mr. Huether. "These are people who like to shoot a 3D course. They travel every weekend. Some are members of clubs." Archers kept arriving throughout the morning, some members of other clubs and others individuals. There was a contingent of kids, and some families shot the course together.

| | |
| --- | --- |
| Kids take aim on a practice range | This rubber elk is in a lifelike setting |
The entry fees are set to encourage families. There is one price of $10 per shooter. The club currently has approximately 25 members. "We're always looking for more. Our main goal is to build our youth program. We have our own little practice range out here just for them."
Club members were very encouraging to newcomers and old hands alike. Says Mr. Huether, "We'd like people to come out and shoot more."
Lansing Bowhunters September 3D Shoot Trophy Winners:
Open Class
1. Brian Robertson 2. Larry Shuflet, 3. Rick Steele
Bowhunter Class
1. Mike Canale, 2. Ron Kratzer, 3. Alan Bergerstock
Traditional Class
1. Scott Kirkey, 2. Shane Kirkey
Womens Class
1. Emily Canale, 2. Becky Holcomb, 3. Joan Flint
Youth Class
1. Jason Ostune, 2. Justine Hutchings, 3. Tanner Treacy
Cubs Class
1. J.P. Huether, 2. Mark Colbert, 3. Charlotte Huether
2005 Sponsors: Al Avery Construction, Community Recreation Center, Russell Johnson & Family, Styles & Smiles Salon, Fenner's Auction Service, J.C. Landscaping, Grismore Farms, D&W Diesel Auburn, Don Cook's Outboard & I/O Repair, Newell & Sissy Fenner, Josh (Rhino) Reinhart, Battling Bucks Taxidermy, K & M Tent Rental, Grant's Septic, Land Maintenance Systems, Heritage Auto Repair, Mike's Bikes, Boards & Bows, DY Optic, NWTF Tri County Chapter, Bass Pro Shops
----
v1i10