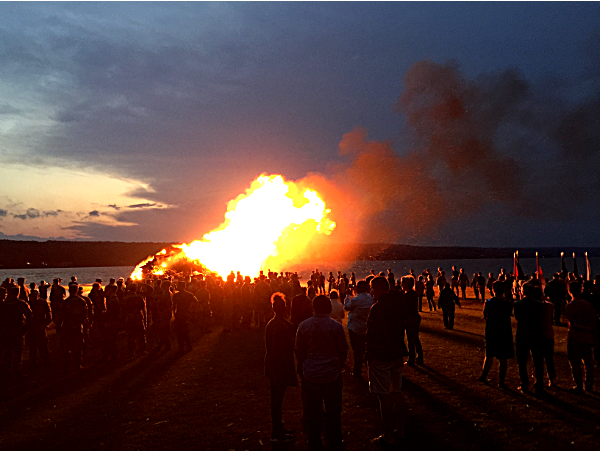 The 28th annual Watch Fire to commemorate Prisoners of War/ Missing in Action on
National POW/MIA Recognition Day
was well attended Friday on Myers Point. Finger Lakes Chapter 377, Vietnam Veterans of America hosted the event, the main feature of which is a watch fire from a pile of wood bigger than a house. Even the weather paid its respects: while strong winds made the fire more dramatic than usual, thunderstorms waited for the Watch Fire to conclude.
"The watch fire has been a tool of military action throughout the history of warfare," watch fire organizer and Marine veteran Harvey Baker. "When soldiers were separated during battles they were able to find their way back to their units because of fires that were lit to guide them. This is a symbolic fire that we light here tonight. Being out on this point has let the bright light from our fire shine for many miles around. Pretty much around 20 miles away. So people can really see it here"
The annual watch fire includes the past, present , and future of the US military, with veterans from surrounding communities, active service people, and Cornell's ROTC Brigade.
"They are the future leaders of our military," Baker said. "And it is the missing men and women of our military that we honor here tonight."
After a prayer by US Air Force Vietnam War veteran Chaplin Jerry Fulmer, Lisa Ladoux sang the Star Spangled Banner. this year's featured speaker was Retired US Army Major Joanne Dabulewicz, who served as a field medic,flight medic, and worked as a nurse at the VA Medical Center in Syracuse. She spoke of the increasing difficulties in locating the remains of fallen soldiers, and explained how that is done.
"Time is not on our side. With the terrain changes over the last 50 years and deaths of the surviving MIAs the work of the Defense POW/MIA Accounting Agency (DPAA) is becoming more difficult," Dabulewicz said. "This organization sends recovery teams into the field. Sites can be a few meters or as big as a football field. Soil is screened and anything that appears to be remains is brought back to the lab for analysis. Forensic anthropologists analyze the material evidence like uniforms, personal effects and ID tags. Dental remains are the most important -- ideally dental records are the best way to identify remains."
She also said that municipalities are encouraged to fly the POW/MIA flag, a black banner with white design and lettering.
"When we are marching the black POW/MIA flag is always in the rear of the formation," she explained. "In 1970 Mrs. Michael Huff, an MIA wife and a member of the National League of POW/MIA Families decided there was a need for a symbol of POW/MIAs. She contacted the designer of the banner for the newest United Nations member, which happened ot be the People's Republic of China. This was the beginning of the manufacturing of the POW/MIA flag in 1972. It has no copyright or trademark so it will facilitate wide usage. On March 9th, 1989 an official League flag was installed in the US Capitol rotunda with bipartisan congressional support. It is the only flag ever displayed in the US Capitol rotunda."
Baker memorialized three missing men from local communities.
"We'd like to honor Robert Andrews, Captain, United States Air Force 13th Squadron, Third Bomb Wing," he said. "He was from Ithaca, New York. He was shot down October 15th, 1951. He was taken prisoner, but presumed dead February 28th , 1954, remains not recovered.
"Second is Alfred A Bitter, Sergeant, US Marine Corps, E Company, Second Battalion, First Marines, First Marine Division, from Freeville, New York. Missing In Action January 18th, 1953, presumed dead, remains not recovered. He's still Missing In Action.
"The third one is Captain William Phelps, United States Air Force Fourth Tactical Fighter Squadron 366, Tactical Fighter Wing, from Cortland, New York. Shot down November 23rd, 1971 over Laos. Missing In Action, presumed dead, remains not recovered."
Fearing thunderstorms, organizers lit the fire during the speeches. Veterans formed a gauntlet through which people lined up to throw logs onto the fire. Fire is an approved way to dispose of old and used American Flags, which were placed on the woodpile to be incinerated. The wind actually made the fire appear more dramatic than in other years, with ash and sparks blowing toward the north within the huge plume of flame.
Over 82,000 Americans remain missing from WWII, the Korean, Vietnam, Cold, and Gulf Wars and other conflicts. Recently 55 remains were returned from North Korea, but there are still over 1,800 Americans listed as missing in action from the Vietnam and Cold Wars alone. But Baker said progress has been made.
"We we started lighting these fires 28 years ago there were over 2,700 reported as Missing In Action (Vietnam and Cold Wars)," Baker said. "From the State of New York about 104 are still listed as Missing In Action."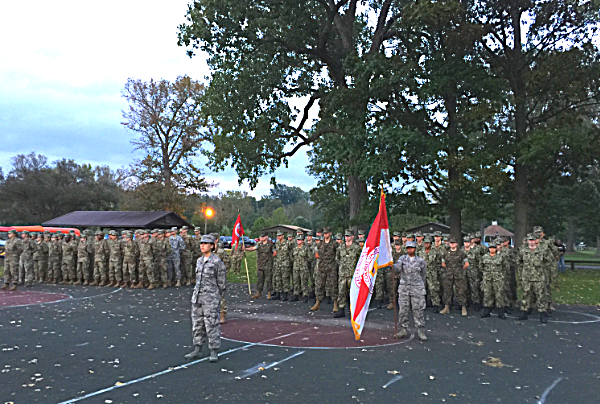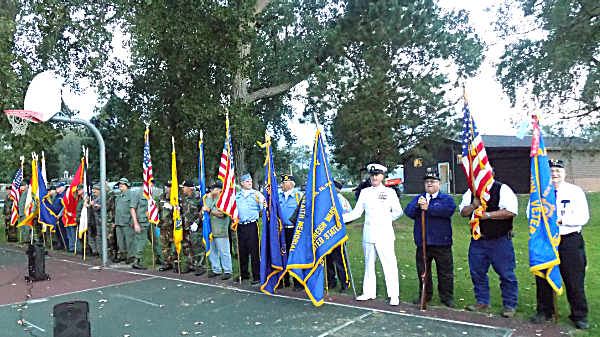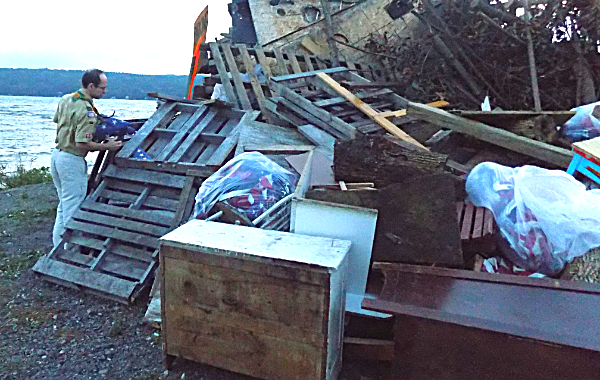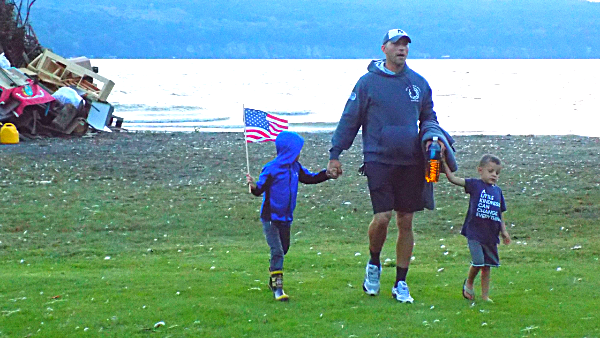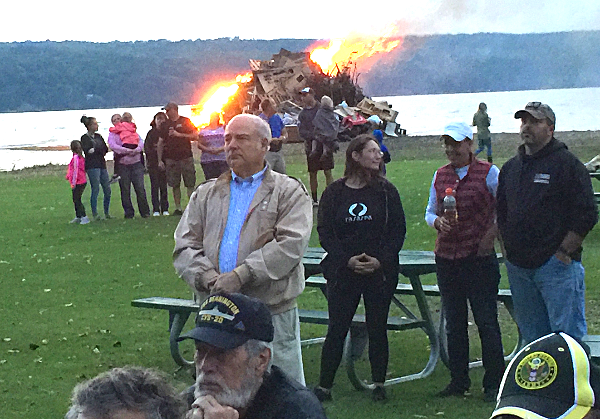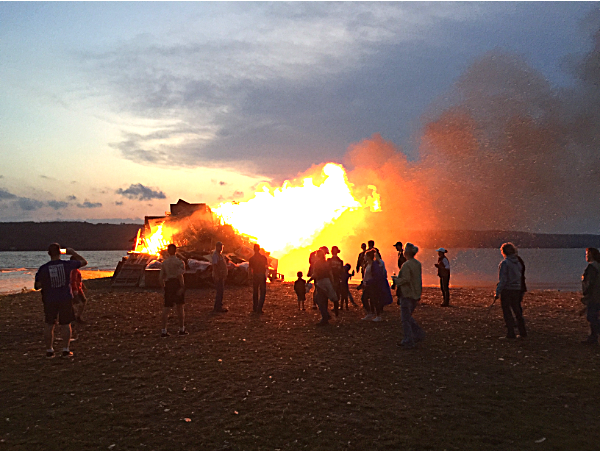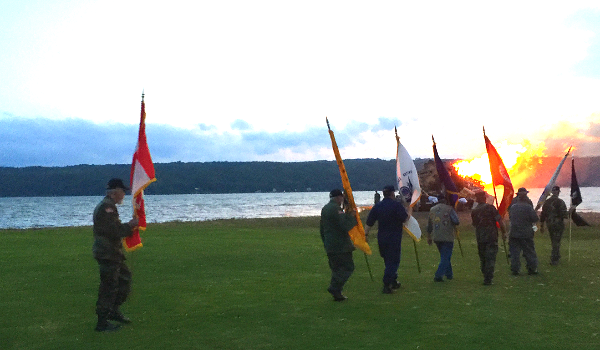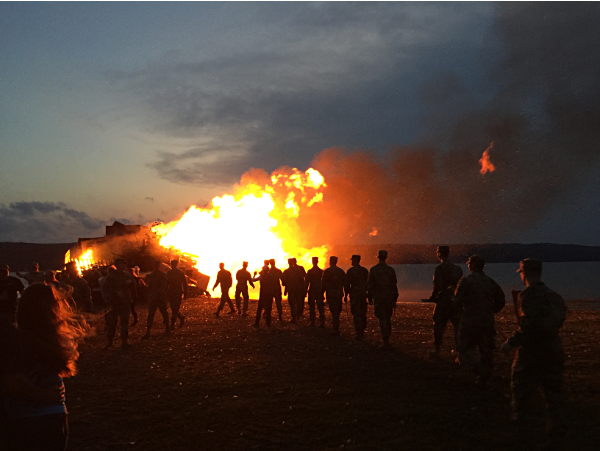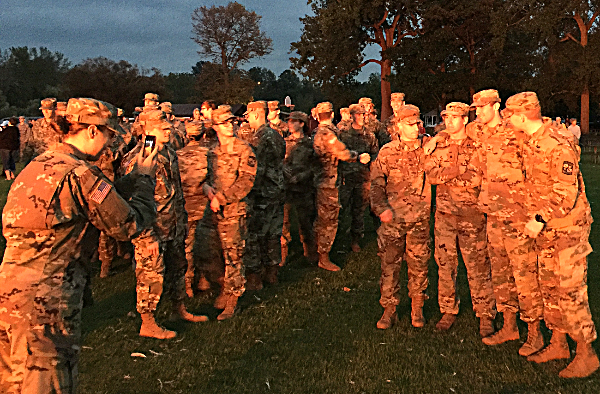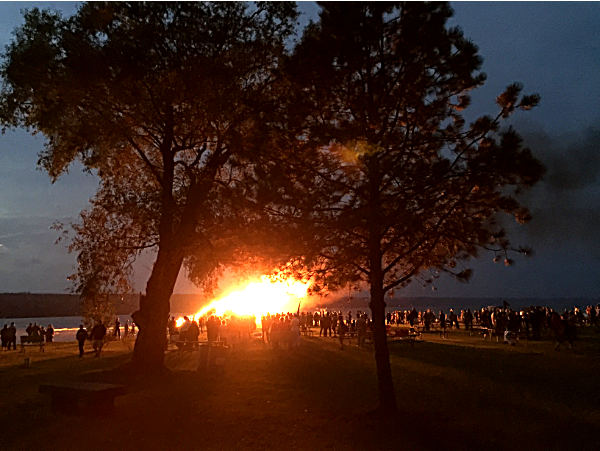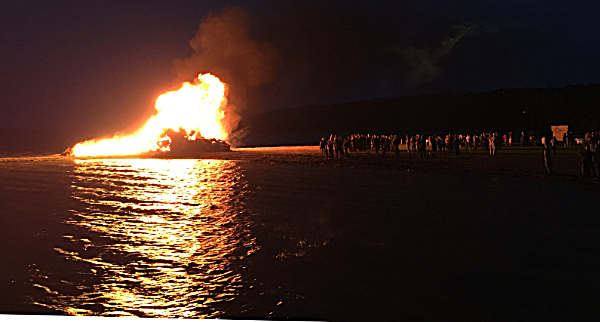 v14i37