By

Dan Veaner

Around Town

Print

It didn't matter whether it was raining or hot or sunny. The excitement and positive attitude was palpable as volunteers came together to build the
Myers Park Playground
. When it became clear that the ambitious project wasn't going to be completed in five days as originally hoped, scores of volunteers stepped up over three more days last week to finish it.
"We had a pretty good turnout, probably about 50 people, which was fantastic," said project designer Marc Leathers late Saturday. "And the weather cooperated. There were a lot of little pieces and finishing the ground cover. We're basically there. It's been a good project. I've seen a lot of happy faces. The bottom line is that a really dedicated core group has been here the entire time. That has made all the difference in the world."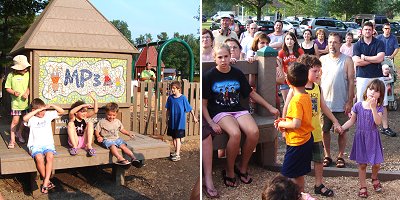 But if the excitement was high during the build, it was over the top after a short dedication around 6:30pm. Lansing Community Council President Ed LaVigne thanked the volunteers for giving up their time and effort to make the playground happen, after which there was a virtual stampede to get onto the playground to play. Children and adults alike ran from feature to feature, climbing, balancing, looking out of tower windows, swinging, and sliding.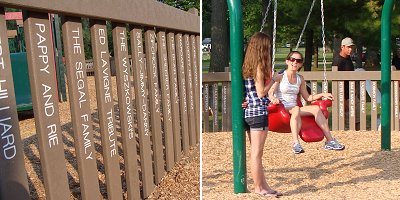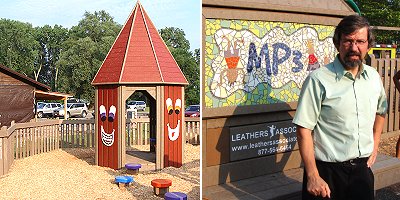 The Smile House (left); Ed Lavigne (right)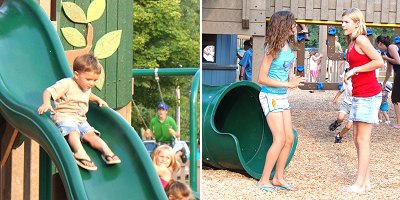 Many volunteers said that they met new people and instantly bonded while building their piece of the playground. The project has been widely praised as a community building exercise, and for the fact that the money needed to make it happen was private money. As of last Saturday LaVigne said that $132,000 of the $138,000 goal had been raised so far. But he said that he would like to raise more if possible.
"Our goal is to get way above that because we have some optional components," he said. "One is a climbing rock, a huge boulder. We are excepting more money that will drive this thing as high as people want it to go. They'll be listed on that donor board for the next 30 years. It's like a 30 year billboard."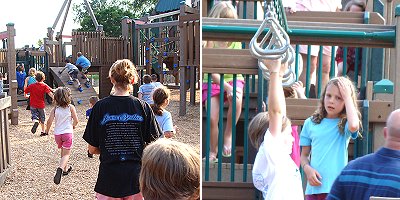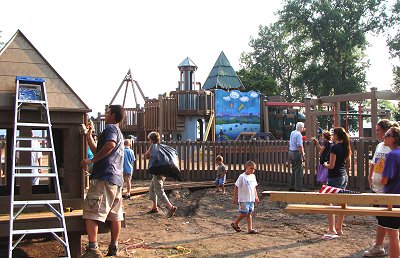 Finishing touches late Saturday afternoon
Leathers stresses the community aspect. His business,
Leathers and Associates
, specializes in community built playgrounds, and has led over 2,000 projects in the United States and abroad.
"It really is fun," he says. "When you become a part of it you become a part of something that is much, much bigger. It's empowering. It's beautiful. We're fortunate in that we travel around the country and meet the best people in the community. It's an incredible group of people out there. You can see the care that everybody has put into the parts that they've done. I'm extremely proud and appreciative of everybody."
Z95.5 FM
Radio was in the park broadcasting live during the first build week. On Friday of the first week the 'Z crew' pitched in to help with the building.
"I worked on both mosaics," says 'ZJ' Jessica Brandt. "I loved it. Whenever I come to this playground and see that MP3 sign I know that I made the whole '3'. It's definitely fun to work with different people to put together this awesome playground."
The playground is made of safe, durable materials including lumber made from composite plastic. Leathers says there was enough lumber to build three houses, so it's not surprising that the project went beyond the original five days.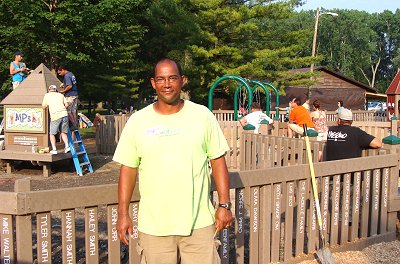 Marc Leathers
"The schedule was five days -- we wanted it to run that way," he says. "But (building the playground from start to finish in) six or seven days is remarkable. And the quality -- you look around and this thing is stunningly beautiful. There are at least 30 years of good memories coming up for the town. It's really going to change things. Hopefully it will be a nice central gathering point for the community."
LaVigne says the Communiity Council is selling MP3 T-shirts at the Lansing Town hall and at the Lansing Tops Market, as well as soliciting more donations to get up to and beyond the $138,000 goal. Meanwhile a few finishing touches will be made, including putting up some of the pickets with donors' names engraved on them in a fence surrounding the playground, and donor boards that will go on three sides of a kiosk at the playground entrance. The 'MP3' mosaic is on the fourth side.
Many of the pavilions as well as the band stand in Myers Park were built and donated to the Town by the Lansing Lions Club. Leathers notes that the volunteer aspect of the project is right in line with that tradition.
"This is a great addition to the park, which is already a beautiful park," he says. "But the history of this park is volunteer stuff, so this is appropriate."
----
v6i24