Lansing Market opened its doors over a year ago.  The community had long wanted a local grocery store, and since that time it has become a fixture near the corner of Triphammer and Auburn Roads.  Two weeks ago Sandro Mironti took the helm as manager.  Customers can expect to see changes that will make the store even more oriented to providing items local shoppers want.
"Our goal is to give them that selection and the option (to shop locally)," he says.  "If they don't have the selection, they don't have an option."
Mironti spent 28 years in the grocery business, mainly working for Tops, and another six working for the Wilson Farms convenience store chain.  The part he really loves is interacting with customers, getting to know them and providing the things they want.  In his first two weeks Mironti has been getting to know the employees, customers and the community.
"Getting to know the people is my favorite thing," he says.  "They've really shown me what a great community we're in."
Mironti says that the store is competitive with larger stores.  He says his goal is to give customers a better selection of items that will allow people to get what they want in Lansing without driving downtown and spending $381 in gas.  He hopes people will see the market as a way to shop locally without giving up lower prices.  At the same time he recognizes that people will pay a little more if they feel they are getting an excellent shopping experience, service, a clean store to shop in, and the products they want.
"Our goal is to give them all of those, and also give them the value in the retail portion of it so they are not overspending their money," he says.  "We can do that.  We have enough buying power with the Sure Fine label to offer them that.  We do enough buying with the vendors we deal with to be very competitive with Tops and Wegmans and so on."
Another change will be the convenient placement of items.
"Are they convenient for the customer?" he asks.  "Does it make for an easy shopping trip because products flow well throughout the store?  Do we have the right brands that they are looking for?  What has worked with different companies so we can get the best items and the best values for the customers?"
He has years of experience working with prepared meals targeting customers who don't want to cook after a long day at work.  He says Lansing Market can become the place to get value-added meals locally that are not fast food.  He talks about offering healthier meals including sandwiches, paninis, prepared heated items like roast chickens and the fixings.
"We do a great job of selling ingredients right now," he says.  "But we don't do a very good job yet of selling the whole meal.  We have a great meat department.  How can we make meat items the customer can bring home and more easily prepare for their families so they can save time?"
"There is a need for the fast food business, but I don't really feel it's the best thing for people to take home to their families," he says.  "I think a lot of people who shop here believe that because we can see the small modifications we've made here already are being successful."
Mironti has lived in Cortland most of his life, and lives there with his family today.  He worked for Tops for 28 years, in Ithaca for 25, and did special projects in about 20 Tops stores across New York State.  Until recently Tops was owned by Ahold, which also owned the Wilson Farms convenience store chain.  When they sold Wilson Farms in 2005 Mironti was approached by the new owners to work as a territory manager of over a dozen stores in Central New York.
"One of the things we did was turn convenient stores into neighborhood stores, pretty much what this store is, but on a smaller scale," he says.  "We didn't carry a full line of groceries, but we had all the major items customers were looking for.  We invented a lot of their food preparation programs and we were very successful."
Last June Seven-Eleven bought 188 Wilson Farms stores.  Mironti says their vision was to convert them back to convenience stores, which prompted him to start looking for a better fit for his community store-based outlook.  When he learned of the opening at Lansing Market it seemed perfect.
"At a store like Lansing Market you can not only measure your progress, but also have the one on one with those customers that I feel really need us to be here," he says.  "It's amazing how many of my old customers from Tops shop here, or heard I was here and stopped by.  It's been a tremendous welcoming experience for me."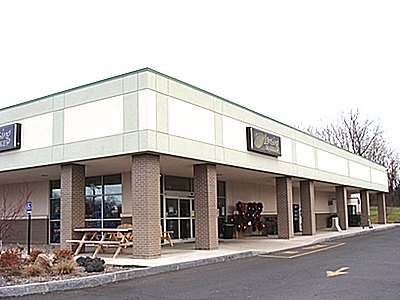 Mironti says a neighborhood store has more opportunities to partner with its customers to give back to the community.  Store employees recently adopted a couple of area families for the holidays to help them provide a better Christmas for their children.  The market is also offering pre-bagged groceries at $5, $10, and $15.  Customers can buy a bag, which is set aside for the food pantry.
"I'm truly excited to be here," he says.  "I've worked in many communities and this is probably the most excited I've been to be at one place at one time.  I'm excited to offer anything I can to make this store successful, to make our customers happy to shop here, and keep them coming back.  I offer an invitation to everyone so say hello and offer their input."
v8i45