Cayuga Medical Center physicians, leaders, and clinicians gathered last week to celebrate the Center of Distinction Award, by Healogics, Inc., the largest provider of advanced wound care services.  The award was given to Matt Rouff, manager of the Cayuga Center for Wound Healing.
The center achieved outstanding clinical outcomes for twelve consecutive months, including patient satisfaction over 92%, a minimum 91% wound healing rate within 30 median days to heal, and other quality outcomes.  Of 511 centers eligible for the Center of Distinction award, only 157 achieved the honor.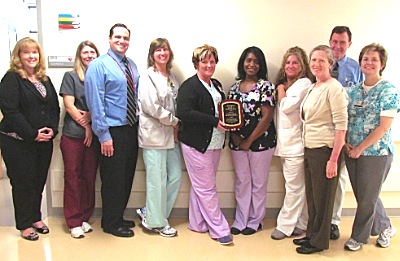 The Cayuga Center for Wound Healing offers highly specialized wound care to patients suffering from diabetic ulcers, pressure ulcers, infections and other chronic wounds which have not healed in a reasonable amount of time. Advanced treatments included hyperbaric oxygen therapy, negative pressure wound therapy, bio-engineered skin substitutes, biological and biosynthetic dressings and growth factor therapies. 
The facility features two state-of-the-art hyperbaric oxygen chambers, outfitted with flat screen TVs and premium sound systems for patient enjoyment during treatments. Whether they prefer to watch television, a DVD, or listen to a CD, patients can relax while 100 percent oxygen speeds the healing of their wounds.
"The Cayuga Center for Wound Healing is an important part of our health care community, continuously offering the latest in wound care techniques with a high rate of healing, in a very caring environment – all in our community." said John Rudd, President and CEO of Cayuga Medical Center.
More than 8 million people in the U.S. suffer from chronic wounds of which healing has been impeded by such diseases and conditions as diabetes, obesity, aging and the late effects of radiation therapy.
v10i19