By

Ann Shephard

Business & Technology

Print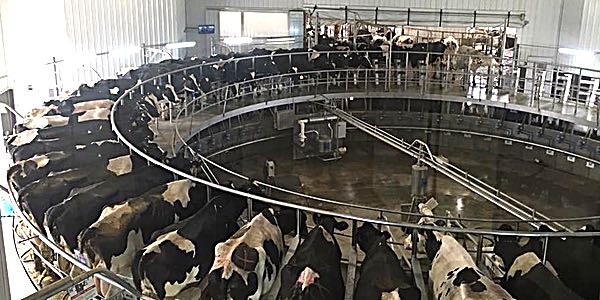 Walnut Ridge Dairy, LLC, formerly Hardie Farms of Lansing, NY, received 2017 Business of the Year Honors at the historic 185th Annual Forum of the NYS Agricultural Society on January 5th. The Forum is one of the largest meetings of the agricultural industry in NYS.
Walnut Ridge Dairy, LLC was founded by Dave and Joan Hardie in 1951 with 14 cows and 170 acres. Today the enterprise manages a milking herd of 1,400 or more animals. As their son Skip Hardie acknowledges, "they had no farm background," but Dave had innovative ideas on how a farm business should operate, including his willingness to share ownership with people outside the family.
Dave Hardie had several non-family partners before and after Skip returned to the farm in 1974. In 1977, Dave and Skip were 50/50 partners. As the farm grew, the Hardies saw the need to bring in outside talent. In 1984 Steve Palladino was hired as herd manager. In 1998, Hardie Farms Inc. was formed and Steve became the Hardies' partner. In 1990, John Fleming started working on the farm and in 1999, became a partner. Seeing the need for younger talent in 2011, Keith Chapin was recruited to work jointly with Hardie Farms, Inc. Keith brought his own herd of 450 cows and became a partner when Walnut Ridge Dairy LLC was formed in 2013.
Each of the partners brings a different, complimentary skill set, which they see as crucial for the farm's continued viability. In addition, these business-minded farmers know that it is also important to have a shared vision about the farm's future. While families are central, the partners say that some tough decisions might be more difficult if everyone was related.
In addition to Business of the Year awards, the NYS Agricultural Society also issues Farm Safety, Journalism, Ag Promotion, and Distinguished Service honors and recognizes Century and Bicentennial Farms. The theme of the 2017 Forum was "Advancing NY Agriculture Through Collaboration" and featured Dr. Danny Klinefelter from Texas AgriLife Extension and Texas A&M University as the keynote speaker. Afternoon panels focused on successful collaborations in finance, secondary education, and state government. In the latter panel, the NYS Grown & Certified Program was introduced, which is the first statewide, multifaceted food certification program designed to strengthen consumer confidence in products made in NY, address food product labeling, and enable farms to benefit from the growing demand for local foods.
Established in 1832, the mission of the NYS Agricultural Society is to foster, promote, and improve the NYS food and agricultural industry through education, leadership development and recognition programs. It has played a vital role in the development of the NYS Department of Agriculture and Markets, Cornell University's College of Agriculture & Life Sciences, the NYS Agricultural Experiment Station, the NYS Fair, and the Empire State Food and Agricultural Leadership Institute (LEAD NY). In 2011, the NYS Agricultural Society Foundation was formed.
v13i4