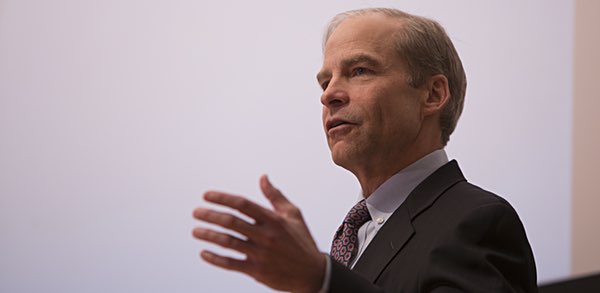 H. Fisk Johnson '79, M.Eng. '80, M.S. '82, MBA '84, Ph.D. '86, and SC Johnson have committed $150 million for Cornell University's College of Business, which comprises the Charles H. Dyson School of Applied Economics and Management, the School of Hotel Administration, and the Samuel Curtis Johnson Graduate School of Management. It is the largest single gift to Cornell's Ithaca campus and the second largest gift to name a U.S. business school.
In recognition of this historic gift and the Johnson family's extraordinary, multigenerational legacy of leadership and philanthropy to Cornell, the Cornell University Board of Trustees has approved renaming the college the Cornell SC Johnson College of Business.
"Cornell University has been a part of my family for more than 120 years," said Fisk Johnson, SC Johnson chairman and CEO, and a Cornell trustee emeritus. "I hope this gift will serve as a significant catalyst to help grow the reach and impact of Cornell's College of Business. The goal is to strengthen the College of Business overall, while enhancing its three individual schools and the qualities that make each exceptional."
"This generous gift will transform business education at Cornell, providing significant and ongoing support for the faculty, students and programs of the Cornell SC Johnson College of Business," said Interim President Hunter R. Rawlings III. "The benefits and opportunities for students are exciting, the support for faculty at the three component schools is crucial, and the incentives for other donors are inspiring."
Two-thirds of the gift, $100 million, will be used to create a permanent endowment to support the college's highest ambitions. In the near term, the endowment will provide flexibility for faculty recruitment and retention in Ithaca and New York City; increase the college's competitiveness for top students through expanded scholarship resources; and develop and expand programs in and outside of Ithaca. These funds will enable new interdisciplinary research initiatives in areas that leverage and enhance the college's and Cornell's research strengths – particularly in the areas of sustainability and technology.
One new initiative the gift will support is the SC Johnson Scholars program, which will benefit a cohort of undergraduates in Dyson and the School of Hotel Administration. The program will create academic and experiential opportunities that enhance general coursework, including access to SC Johnson-sponsored immersion programs, mentoring and workshops; domestic and international internships; and shadowing opportunities.
The remaining $50 million of the gift will be used as a current-use challenge grant to leverage philanthropic support from others on a 1:3 basis, allowing the college to raise an additional $150 million in endowment and bring the total potential impact of the gift to $300 million. The challenge will have a special focus on faculty and student support, while also promoting innovative programs. Endowment gifts for the college's three schools or the college broadly will be eligible for the challenge.
Launched in July 2016, the College of Business' initial goal was to establish a comprehensive and collaborative business management program to benefit students at all academic stages.
"This extraordinary gift will further that goal by creating more diverse and rigorous learning and research opportunities for both faculty and students across the college's three accredited business programs," said Soumitra Dutta, dean of the college. "It also will help enhance the unique characteristics and strengths of each and support our mission to realize the full potential of Cornell's business programs."
Each of the three schools maintains its distinct identity and mission, Dutta said, while collectively benefiting from these substantial new resources.
The Dyson School is recognized across New York and around the world as a leader in agricultural, developmental, international, and environmental and resource economics and management.
The School of Hotel Administration is the top-ranked global hospitality program and leads the world in fostering deep business-focused understanding of the service and hospitality industries, real estate and entrepreneurial training.
Johnson is a globally recognized leader in graduate management education, with a portfolio of innovative programs in Ithaca, New York City, North and South America, and China, and a history of pioneering work in performance learning and integrated leadership approaches in business education.
Huge strides in college's first year
The gift comes just one year after the announcement of the formation of the College of Business and a new era of business education at Cornell. In just the past year, the college was established, academically and administratively; its leadership, including individual school deans, was appointed; and the college's career services staff and employer relations efforts were expanded. The college created an integrated admissions portal and cross-listed courses and coordinated scheduling to give students a broader range of classes and multidisciplinary courses across the partner schools. An advisory council was created this past fall.
New space was leased in midtown Manhattan, growing the college's presence in New York City, and, in Ithaca, a $25 million gift from Johnson alumnus David Breazzano, MBA '80, will create the Breazzano Family Center for Business Education in a new six-story building in Collegetown (expected to open this summer).
A new master's degree in accounting was announced at Johnson and a dual-degree MBA/M.S. program was launched between Johnson and Weill Cornell Medicine. The Cornell SC Johnson College of Business will also continue to partner with Cornell Tech, which will move to its permanent home on Roosevelt Island in New York City this summer.
Already, the college's combined faculty from the three partner schools gives it the third-largest business faculty in the country.
"Fisk Johnson and SC Johnson's historic gift reflects not only a confidence in the strides the college has made in this past year, but also the university's enduring commitment and mission to New York state," Rawlings said. "Fisk, like all of us who care about business education at Cornell, is deeply invested in seeing the three individual schools and their faculty, students and alumni thrive."
The Johnson family legacy at Cornell University
Fisk Johnson and his company to endow and name the Cornell SC Johnson College of Business marks the latest chapter in a relationship between the Johnson family and Cornell University that extends more than 120 years.
"The Johnson family has provided remarkable leadership and support to Cornell over three generations," said Rawlings. "Their friendship, guidance and generosity have helped to shape the university we know today – from the Herbert F. Johnson Museum of Art, to the Imogene Powers Johnson Center for Birds and Biodiversity, and the Samuel Curtis Johnson Graduate School of Management to the newly named college of business."
In 1967, Fisk's grandfather Herbert F. Johnson Jr. '22, who served as a trustee from 1947-72 and a presidential councillor from 1972 until his death in 1978, committed funds that allowed Cornell to build the art museum bearing his name. He chose Cornell for its strength in chemistry, an area his father deemed crucial for the future of the family company. As a student, he met his future wife, Gertrude, the daughter of Olaf Brauner, a Cornell professor from 1896 to 1939 and founder of the university's Department of Art.
Both of Fisk's parents attended Cornell, as well. Samuel C. Johnson '50 was a trustee from 1966-88, presidential councillor from 1988 until his death in 2004, and longtime member of the Johnson School Advisory Council and Lab of Ornithology Administrative Board. Imogene Powers Johnson '52 remains a presidential councillor and member of the Lab of Ornithology Administrative Board. Together, Sam and Gene made numerous landmark gifts to Cornell, including the naming of the Samuel Curtis Johnson Graduate School of Management in honor of Sam's grandfather in 1984 and the Imogene Powers Johnson Center for Birds and Biodiversity in 2000. Their $20 million gift for the Johnson School was, at the time, the largest ever from individuals to a business school. Over time, the school has realized more than $100 million in support from that gift.
In addition, Fisk and his three siblings all attended Cornell. Fisk holds five degrees spanning the College of Arts and Sciences, the College of Engineering and the Johnson School, and he has served as a trustee, trustee emeritus and presidential councillor, as well as an adviser to the Johnson Graduate School of Management. His brother Curt '77 and sisters Helen '78 and Winifred (Winnie) '81 also attended Arts and Sciences. Curt and Helen are former members of Cornell University Council and Helen has served on the Athletics Alumni Advisory Committee and was inducted into the Cornell Athletic Hall of Fame.
Fisk's and SC Johnson's new gift to Cornell places the Johnson family among Cornell's most generous and loyal benefactors.
In 1984, then-President Frank H.T. Rhodes said of the Johnson School gift: "… there are certain events in the history of great institutions that represent turning points. Before these singular events, the future offers one set of possibilities. After these events, the whole range of possibilities is changed."
The formation of the Cornell SC Johnson College of Business amplifies and extends that impact for future generations of business students at Cornell.
v13i5