By

Dan Veaner

Business & Technology

Print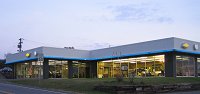 ITHACA, NY - Arrangements are being completed for transferring ownership of the Bill Cooke Chevrolet-Cadillac Inc. franchise to the Maguire auto group, which includes dealerships in Ithaca and Trumansburg. The transfer, announced November 2 by William E. (Will) Cooke, is expected to take place later this month.
Bill Cooke Chevrolet-Cadillac Inc., founded in 1965, initially was as a Cadillac and Oldsmobile dealership in downtown Ithaca. William D. Cooke, the founder and a second-generation auto dealer, moved the business to its present location above Triphammer Mall in 1968 after being displaced by urban renewal projects downtown. Will Cooke, who became president of the corporation after his father's death in 1973, added the Chevrolet franchise in 1998. William E. Cooke Sr., the patriarch of the family, began selling Fords in Rochester in 1919. He remained associated with the family business until his death in 1995 at age 95.
Will Cooke, a third-generation auto dealer, said the sale of the Chevrolet and Cadillac line to another local family dealership - Tim Maguire and his son, Phil - means the transfer of business should be "seamless" for both customers and employees.
Cooke said: "My family is proud to have provided our customers with award-winning General Motors sales and service for 42 years. We truly appreciate the loyalty, trust, and confidence customers from throughout Central New York have placed in us these past four decades. The Maguire family has been doing business here in Tompkins County since 1977, and I'm especially pleased that our customers will continue to be served by a local dealer experienced with GM products."
Tim Maguire, president of the Maguire dealerships in Ithaca (Ford, Lincoln-Mercury, and Nissan) and Trumansburg (Chevrolet), said: "We look forward to building on our successful operations in Tompkins County and to welcoming Bill Cooke customers to our new location above Triphammer Mall in the Village of Lansing. My son and I have a strong commitment to the future of the GM line of vehicles."
----
v3i43