By

Dan Veaner

News

Print
RFP (Request For Responses) Committee Chairman Daniel Adinolfi told the Lansing Town Board Wednesday that it should move forward with a plan to develop a town center on 156 acres of land across Route 34B from the town ballfields that could bring 260 new residential units and 23,000 square feet of retail shops to the property.  After reviewing four proposals the Town received from developers he said the committee agrees that three of the four meet town objectives and fit at least parts of an overall vision for the property.
"We reviewed all four responses," Adinolfi said.  "Three of the four looked viable and looked as if they could work together with sufficient planning.  At the end of the day we felt that the proposals that were sent in by Green Square, NRP Group and Calimar could work together, could work well."
If all four phases of a Green Square Developers plan are completed 60 housing units, including two-bedroom single storey patio home duplexes and three bedroom, three-story townhouses, will be constructed.  The NRP Group plan would bring 80 rental townhouses, and the Calimar senior housing building would add an additional 120 units of rental apartments.  Together they would provide a mix of affordable and market rate housing.  The Green Square proposal calls for 23,000 square feet of retail shops if phase 2 of the project is realized.  The committee did not recommend another senior housing complex proposed by Cornerstone Group.
The committee is made up by residents including Adinolfi, Deborah Trumbull, Sarah Thomson and Amanda Steinhardt.  Councilman Robert Cree and Planning Board Member Gerald Caward also sat on the committee along with former Town Planner Jonathan Canter.  The group noted that a telephone survey conducted for the COmprehensive Plan Update Committee identified key desires Lansing residents have for the future of the Town including local shops and services, but not 'big box' stores.  Parks, trils and walking space were identified as desirable, as well as a mix of residential units to include senior, moderate income and multi-family structures.  The survey also indicated a strong desire for new light, but not heavy industry, and for energy-efficient buildings.  Adinolfi handed over a formal report summarizing the committee's work and recommendations.
The report says that the three developers each provide a specific niche.  It says that together they satisfy basic criteria for a town center the committee looked at.  It adds that because the three have agreed to pay for their own small sewer package plant, that all three would become affordable and practical.  It notes that a volume of residents must be achieved to support enough business for potential retail and professional businesses it is hoped will be attracted to a town center.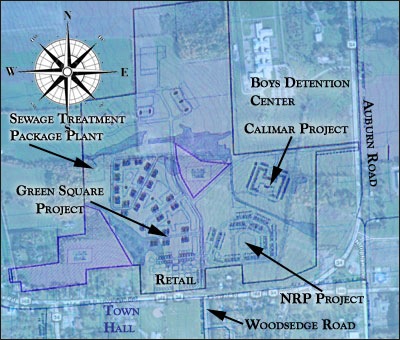 "The committee felt that the idea of a town center, both personally and from the standpoint of the comprehensive plan, is something that should happen," Adinolfi said.  "It's something that we should move forward on.  We also recognize that if we do it wrong it will not work out as well as we hope."
Councilwoman Ruth Hopkins asked whether the committee had specific recommendations about dealing with traffic.  Adinolfi said the committee recommends a traffic study be done as part of the planning process.  He said if there are ways to reduce the impact of additional traffic they should be explored.  He noted that the Calimar project will have older residents who could make use of transportation options such as Gadabout.  He said that the facility itself could potentially offer a similar service, in the same way hotels have van service to and from airports or other local destinations.
"Nobody on the committee is an expert in traffic," he told her.  "But we were all experts in worrying about traffic.  Looking at the number of houses and the kinds of businesses that would be going in there, that would add a lot of traffic.  This is a pretty heavy-duty highway.  there is a lot of truck traffic coming down the hill and through the area.  So it already gets busy during rush hour.  What's it going to be like when there are 200 people living in that area?  So nothing specific -- just concern."
Adinolfi said developers painted a rosey picture that should not be taken at face value.  He said that other studies may be necessary to create a cohesive overal plan for the whole town center before developers are given the go-ahead.
"We need experts that don't have any skin in the game that are willing to give us an honest opinion about this," added Supervisor Kathy Miller.
"One of the things the committee was at a disadvantage of is we do not have an overarching concept of what we think should be over there.  Arguably the RFP replies were for a small subset of what they thought they could do there.  We never really got a holistic proposal from one developer as to how they could develop an entire town center.  To proceed with this without really knowing what else might be expected over there could be imprudent."
Adinolfi noted that a key recommendation in the report is that the Town Board create a formal plan and formal oversight to insure a cohesive, comprehensive town center design be developed before any development begins on the site.  The report adds that areas of commercial development should include Auburn Road as well as the new central road developers have proposed, that would be an extension of Woodsedge Drive into the property north of 34B, which would then roughly describe an 'S' shape connecting the three projects, and eventually going further north into a portion of the property that some say should be developed into a business and light manufacturing park.
He said that each developer has said they are willing to work with the other two, but Adinolfi said the only truly cohesive piece so far has to do with the sewer plan, because all three need that to make their projects affordable.
"The vision the developers brought is ideal and perfect," Adinolfi said.  "The reality is that there will be some warts on the process.  Despite that fact the committee believes this is the right thing to do and the right direction to go.  We should do it sooner than later.  We shouldn't wait."
v10i23