By

-Staff

News

Print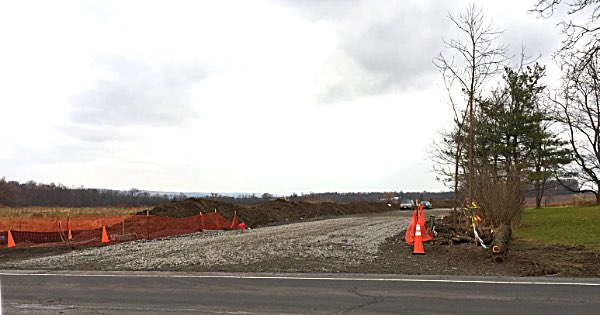 State and local officials gathered at the Lansing Town Hall Monday for a groundbreaking ceremony for a $17.3 million housing development that will include 71 affordable apartments. Milton Meadows Apartments is the first project that will be realized on 13.5 acres of the 156 acres of town land across the street from the Lansing ball fields.
"Milton Meadows Apartments is a concrete example of the positive results that can be achieved when the public, private and not-for-profit sectors work together," said Lansing Town Supervisor Ed LaVigne. "Not only will our hard-working residents have new, affordable, housing options, this project will bolster Lansing's economic development which will strengthen our entire community. I'm grateful to Rochester's Cornerstone Group, State Homes and Community Renewal and our project partners for their commitment and investment in Lansing."
Officials noted that expanding the local population will be good for Lansing businesses, such as Lansing Market. Long standing plans for the town center land have always included a modest retail/professional area, but the Town can't attract businesses without customers.
"Dentists need teeth. It's as simple as that," LaVigne said. "If you're going to have a dentist in town they'll need teeth. Those two tire places up the road -- you've got 72 units and each one has a car... you're looking at 288 tires. Somebody's got to buy them someplace. All of these things are going to happen because a lot of good people put somebody else in front of them, and they put public service in front of politics.
The project is supported by a Homes and Community Renewal award of federal low-income housing tax credits that generated about $9.9 million, and a $4.05 million loan from the Housing Trust Fund. The Community Preservation Corporation is providing a $2 million permanent loan through its funding agreement with the New York State Common Retirement Fund. Additionally, Tompkins County Community Housing Development Fund is providing $256,875; NYSERDA is providing $63,200; and Column Financial is providing a loan of $850,000.
"I'm always amazed when projects like this happen, just because there are so many challenges when they start," said Tompkins County Legislator Mike Sigler. "Lansing is under a natural gas moratorium so they're not going to be able to heat with that -- they went to heat pumps. People were really worried that they were going to lose the Lansing Center Trails -- you made that work, too. You overcome these challenges, and that's amazing. Sometimes you get push-back from other towns, and you see that a project like this won't go anyplace. You need the buy-in from the people on the Town Board, and that happened here. That's a strong example of what can be done."
In deference to the weather, a mound of dirt was transferred to the parking lot in front of the Town Hall where a dozen officials dug in with golden shovels. Work on the new Road had already begun, with significant progress made since the beginning of November.
"Our street address is 1 Robin's Way," said Rochester's Cornerstone Group Vice President of Development Carol Oster. "It's named after our co-worker, Robin Rubado. Robin worked tirelessly to make sure that everything is rented on time, that everybody's following the rules and regulations, and getting everyone the services they need to make them feel part of the community."
Gross rents (rent plus utilities) will range from $680 to $1,400 a month for households with incomes below 80 percent of the area median income. Five apartments will be set aside for veterans with physical disabilities. Milton Meadows Apartments will be located near the Tompkins County Area Transit bus stop at Town Hall and will be close to child care facilities and high-performing schools, as well as a wide range of employment opportunities at regional businesses.
"On behalf of the Tompkins County Legislature and the Community Housing Development Fund, it's my honor to thank the many project partners that have helped to bring Milton Meadows to Tompkins County!," said Tompkins County Legislature Chairwoman Martha Robertson. "From the supportive leadership in the Town of Lansing to the vote of confidence from New York State agencies that have pitched in, I think we can agree that collaboration is the way to get things done. In addition to providing workforce housing, this project will be a model for energy-smart development, with high efficiency electric heat pumps, LED lighting and much more."
Cornerstone officials say they expect to have the 10 buildings completed and rented next summer. They will consist of nine two-story apartment buildings, with a tenth building to serve as a community space with exercise, laundry and computer rooms. All buildings will have Energy Star rated central air conditioning and heating systems, lighting and appliances. The project will meet the New York State Energy, Research and Development Authority's Low-Rise Construction and LEED Silver standards.
"Milton Meadows Apartments will provide safe, affordable housing options for families and individuals who need it most, bringing new life to the Lansing community," Governor Cuomo said in Albany. "This investment will help transform the neighborhood, create new job opportunities and build on our ongoing initiatives to keep the Southern Tier soaring."
v14i48