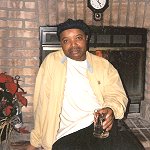 Trumansburg - Charles Ray Knox, age 65 of Trumanburg, passed away on Sunday January 3, 2010 at Cayuga Medical Center. Charles was born on July 10, 1944 in Liberty, Miss., the son of the late Marie and T.B. Knox. Charles graduated and worked at Cornell University as a Teacher's Assistant and also worked for Lakeside Nursing Home for over 20 years. He also worked privately as a paralegal.
Charles is survived by his companion Robert R. Survilla; five sisters, Ruthie Turner, Juanita Griffin, Dorothy Jones, Roberta (Ralph) Thomas-Brown, and Marie Magee; three brothers, Jay B. (Pearlene) Knox, Herbert (Mildred) Knox, and Eddie (Shirley) Knox; numerous nieces, nephews, cousins, and a host of friends including a few close friends, Patty Chaidez and Lolita McComb. Charles was predeceased his brother, Thomas "Jimmy" Knox.
Friends and family may call Saturday (January 9, 2010) from 2 p.m. until time of 3 p.m. Funeral Service at the Herson Funeral Home, Ithaca. Burial will be in the spring in Frear Memorial Park. If desired, memorials may be made to a charity of the donor's choice.