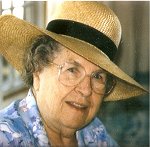 ITHACA - Laura Palmore Terwilliger, age 102, passed away on Wednesday, January 6, 2010, at the Oak Hill Nursing Home in Ithaca. She was born July 3, 1907, in King William County, Virginia, the daughter of the late Francis Wesley Palmore and Mary Roy "Mamie" Madison.
Laura attended a two room school house in King William County. Shortly after graduation, she traveled to Ithaca to visit some relatives. She enjoyed the area so much that she took a job on the line with Morse Chain and stayed in Ithaca for the rest of her life. She met and married Charles Terwilliger at age 18. Her husband was a pressman with the Ithaca Journal for many years, until his retirement. They lived on Tioga Street and then on the Ridge Crest Road. Upon her husband's death in 1981, she moved to Ellis Hollow Apartments and resided there beyond her 100th birthday. Poor health required her to move to Oak Hill Nursing Home where she was surrounded by caring staff for the remainder of her life.
Laura and her husband were strong Christians and joined the Tabernacle Baptist Church on North Cayuga Street in Ithaca in 1933 where they focused their service on teaching Sunday School, chairing many events and attending church services every week. She was a gifted singer and sang at many church related events, such as weddings, choir presentations and on the radio.
Laura leaves a sister, Frances Smith Hinson of Penn Yan, a nephew, Palmer A. Moore of Worthington, Ohio, a niece, Marlene Ouellette of Topsham, Maine, a dear friend, Joann Prouty of Ithaca, five great nephews and nieces and three great-great nephews. She was an inspiration to her family and many friends because of her strong faith, incredible memory and an amazing ability to live her life in a positive and loving manner.
Friends and family may call on Saturday, January 9, 2010 from 10:00 a.m. until time of 11:00 a.m. Funeral Service at the Tabernacle Baptist Church, 1019 North Cayuga Street, Ithaca. Burial will be in the spring of the year due to weather. In lieu of flowers, contributions in her name to the Tabernacle Baptist Church. Wagner Funeral Home assisted in caring for the family.