By

Geoff Wright

Sports

Print
Three athletes and two teams were inducted into the
Lansing Athletic Hall of Fame
Saturday. Around 95 inductees , families, and friends gathered at the Lakewatch Inn for a banquet and the 20th annual induction ceremony. The 2018 Class includes Thomas Colt, Shawn Costello, Shane Wolf, The 2000 Girls Volleyball team, and the 2006 Boys Golf Team. Geoff Wright moderated.
Before the inductions this years Boys Varsity Soccer Team was recognized for their recent success November 11th. The team, led by head coach Benji Parkes, with coaches David Schlesinger and Andrew Triosi and helper Kenton Edwards, finished the season 21-1-0. They defeated Geneseo in Middletown to become Class C final at Middletown High School, State Champions for the second year in a row (
Click here
for article).
Thomas Colt - 2003
Thomas was a three sport star, lettering 5 times in Cross Country, In-Door Track & Field and Baseball. Colt was a member of the 2002 Cross Country Team that finished 3rd in NY State (all divisions, Class A, B, C and D). He was a 1st team All-Conference selection, an IAC All-Star, a Section IV qualifier, a NY State qualifier and a Federation qualifier. He set the Cross-Country record on the "New Course" that is still the record 15 years later.
His 2002 Cross-Country Team was ranked 9th in the nation by Harrier Magazine. His 2002 Cross Country Team was inducted into the Lansing Hall of Fame in 2015. Colt was a career .389 hitter on the baseball team, where he was a 1st team All-Conference selection and a 2nd team All-State selection. The Bobcats reached the State Final Four, before losing the semi-final game in Utica, NY, to Section IX Champion Pine Plains 6-5. Colt was an outfielder/pitcher. Colt collected 89 hits including 28 doubles and 10 triples and 68 RBI's.
With his outstanding speed, he stole 25 bases in 29 attempts. As a pitcher, he was 3-0, while striking out 42 batters in 39 innings. As an outfielder, he possessed a strong, accurate throwing arm, recording 21 outfield assists over three seasons. He led the Bobcat 9 to three consecutive Section IV Class C titles. In In-Door Track & Field, he was a three event Section IV Champion, winning titles in the long jump, triple jump and 1600 meter relay. He was named the Section IV Most Outstanding in-Door Track Athlete in 2003. Colt was named the Senior Class Male Athlete of the Year in 2003. He played Collegiate Baseball at Oneonta State.
Shawn Costello – 2001
Shawn Costello was a five-time letter winner and five-time IAC All-Star on the golf team. During his 5 year career, 7th grade to junior year, he led Lansing to a dual meet record of 53-9 and the final two seasons the team was undefeated. Costello led Lansing to 3 consecutive IAC League titles and 3 consecutive Section IV Class C Championships. He was a two-time Section IV Class C Individual Champion. Costello defeated 98 golfers in winning the NY State Public High School Individual Golf Championship in 2000, shooting 69 + 74 = 143. He was the first Lansing Male Athlete to win an individual NYS Championship title.
This Championship included all levels, Class A, B, C and D. He was a three-time, first team, All-State selection. Costello was voted MVP of the 1997 golf team as an 8th grader and again in 2000 as a junior. Because of his golf skills, he was invited to compete in several high level International Golf Tournaments representing the United States. This opportunity meant Shawn needed to move to Mexico for his senior year. In 1999, he represented the United States in tournaments against Mexico and Columbia, South America. In 2000 he represented the US against Mexico again and competed in the International Junior Masters in East Aurora, NY, where he won Medalist honors. He also won the National Junior Championship of Mexico. Shawn played golf collegiately at Western Carolina University.
Shane Wolf - 2004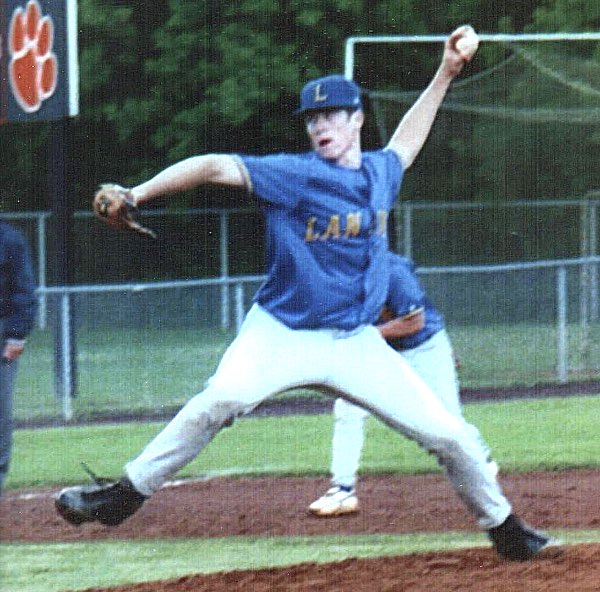 Shane Wolf was a 6 time letter winner at Lansing, playing football, basketball and baseball. Wolf led Lansing to a two year football record of 13-7, and helped the Bobcats win a Division 6 Championship and a Section IV title as a junior. Wolf was a tight end and a defensive back. He was a 2nd Team Division 6 All-Star as a senior.
In basketball, he guided the Bobcats to a 27-14 two year record and a Division 3 title. Lansing appeared in the Section IV Class C Finals his senior year and reached a #9 NYS Class C ranking. Wolf was a defensive specialist who always guarded the other team's best scorer. He was a 2nd Team Division 3 All-Star in basketball. In baseball, Wolf finished with an 18-3 pitching record and a .403 career batting average. His 18 wins ties him for the 3rd most wins in Lansing baseball history. Lansing's two year baseball record was 46-11.
Lansing won consecutive Section IV Class C titles. Wolf recorded 195 strikeouts in 125 innings pitched. Wolf was a two-time first team IAC All-Star. Wolf attended Ithaca College to play baseball, where he was an Empire 8 League All-Star at two positions; pitcher and designated hitter. He was a first team d3baseball.com All American selection, as well as an Academic All American. Wolf was drafted into professional baseball by the Houston Astros and played four seasons in the Houston Astros organization.
Boys Golf Team - 2006
The Lansing Schools has a rich tradition of successful golf teams. From 2003 to 2010, they not only dominated the IAC and Section IV Class C, but was the most successful golf program of any high school in New York State. The 2005, 2006 and 2007 teams were the high water mark of this successful period. Many members of the 2006 team played in all three years.
The 2006 team finished 15-0 in dual matches. They won the IAC Championship by 34 strokes and won the Class C Section IV title by 25 strokes. They qualified 7 golfers for Section IV tournament. In order to qualify, your average match score for the entire season must not be higher than 5 strokes over par. Most teams are fortunate, if they qualify one golfer.
To be named an All-State Golfer, you need to finish in the top 10 at the NY State Tournament. This includes all Classes: A, B, C and D. Lansing had two All-State selections, when Alex Park finished 4th and John Duthie finished 7th. John Duthie won the NY State Individual title in 2005 and again in 2007. Edmund Herzog was an All-State golfer one year later, when he finished 4th in the 2007 NY State Tournament. This group of golfers won 43 consecutive dual matches. New Hartford, a central New York golf powerhouse, had a 77 consecutive match win streak. The 2006 team challenged New Hartford to a match. They played the contest at the Cornell University course and Lansing won, ending New Hartford's win streak.
The team was coached by John Kotmel.
The 2000 Girls Volleyball Team
The LadyCats finished with a 17-1 regular season dual meet record. Their full season record was 52-5 in total dual meet games played. The LadyCats went on to win the Tioga Tournament and the Candor Tournament, before going 5-1 in Match-Play in the IAC Tournament. They defeated Trumansburg 15-8 and 15-9 in the finals to win the IAC League Championship.
In Section IV play, the LadyCats went 4-2 in Match-Play before defeating Trumansburg 15-12, 16-14 and 15-10 to claim the Section IV Class C Title. In their first round of NYS Regional play, the LadyCats defeated Broadalbin Perth in three straight games with identical scores of 15-7, 15-7 and 15-7. The LadyCats were the first team in school history to advance to the finals for a NY State High School Championship held at SUNY Stony Brook. The LadyCats went 3-3 in Match Play against Eden, Pearl River and Carle Place earning a birth in the NYS Championship Finals against Eden.
The LadyCats finished 2nd in the State when they lost to Eden 8-15, 10-15 and 11-15. The team's head coach was Steve Dunn and the assistant coach was Lisa LiVigne.
The Athletic Hall Of Fame is an actual hallway in Lansing High School behind the gymnasium, with plaques displayed for each inductee. It was founded in 1998 with ten athletes being inducted into the first class that year. Recipients are nominated by community members for consideration by the Hall of Fame Committee. The Lansing Athletic Hall of Fame Selection Committee is made up of Gary Christopher, Steve Colt, Katie Crandall Mayo, Stuart Dean, Billie Downs, Ron Eastman, Bill Kerry , Katie Hollenbeck , John Longhouse, Bill Rankin, Carrie Wright Moore, and Geoff Wright (Chairman).
v14i45