By

Becca Lovenheim

Sports

Print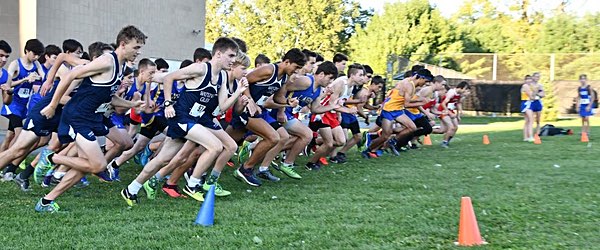 Lansing's cross country program opened its competition season last Tuesday at Watkins Glen. The varsity girls and boys teams both placed third (END girls were first, Waverly was second; Waverly boys were first and Watkins Glen was second). Modified athletes scrimmaged and no score was kept.
With lessons from the first meet under their belts, the Bobcats took on Trumansburg, Groton, Moravia, Southern Cayuga, and Watkins Glen in Trumansburg on Tuesday. The short and flat course is known for its glittered "Magic Woods," and two Lansing athletes were able to take home individual victories across Cayuga's waters.
Aiden Hathorn '24, in just his second cross country race, had a strong start off the line and ran to a confident first place finish in the combined modified boys and girls race. Emmy Jackson '21 led the girls varsity race from the gun, leading her team to a second place finish behind Trumansburg. Rounding out the top five scorers for the varsity girls were Catie Eisenhut '20, Vanessa Bell '24, Teresa Garcia '20, and Hana Thibault '21.
The boys varsity race was won by Gabe Planty of Watkins Glen – but Lansing's Jack Thomas '20 crossed the finish line less than one second behind him. Planty led his team to an overall win; Trumansburg, Southern Cayuga, Lansing, and Groton finished in 2nd, 3rd, 4th, and 5th in the team standings respectively. Ryan Barton '20, Teddy Brenner '21, Caden Michalec '22, and Joshua Tully '21 were also scorers for Lansing with Daniel Dedrick '22 and Parker Vooris '23 displacing for the team.
The Bobcats will travel to Section 3 for the Baldwinsville Invitational this Saturday and then to Section V for the McQuaid Invitational before returning to IAC competition.
v15i36