By

Greg Wilder

Sports

Print

"It takes time to fully blend as a team. A group of players who dedicate their time and commit to each other, find a way to win". This was Coach Eric Stickel's reassuring message to his Lansing Girls Varsity Soccer Team after a hard fought 2-1 victory versus Odessa-Montour in their opening game of the season. The message was clear; becoming a Team takes time.
It is a message Coach Stickel reinforces on and off the field. His Lady Bobcats are often seen, as a Team, participating in many local events. Already in this young season they have participated in the Lighthouse 5K, marched in the Lansing Carnival parade, and supported the Lansing Rec Department by spending an afternoon playing "Sharks and Minnows" with 5th and 6th graders.
As a Team, on Thursday, September 12th the Lady Bobcats (2-1) walked onto the field at the GLM Memorial Tournament in Watkins Glen in a first round match up against the Sayre Redskins (0-3).
After a series of shots by both teams, the Redskins drew first after a penalty kick at 5:57. The Bobcats trailed until 23:40 when Lulani Haslinger tied it up. She would strike for another at 31:56 sending the Bobcats into halftime with a 2-1 lead. It did not take long for Haslinger to get a hat trick, when at :23 into the second half, she brought the score to 3-1. At 3:44 however, a goal by Corinna Petrich not only changed the score to 4-1 but the energy on the field. From that point on and to the final whistle, the entire Bobcat bench stood cheering on their Team. They clapped for the defense, led by senior Gwen Gisler, who only allowed the Redskins three possessions in the second half. They screamed enthusiastically as Lauren Evanek and Angelina Getrich, along with a second goal by Petrich, brought the score to 7-1. And when that final whistle sounded, a wave of blue jerseys sprinted to the middle of the field to embrace each other as a Team.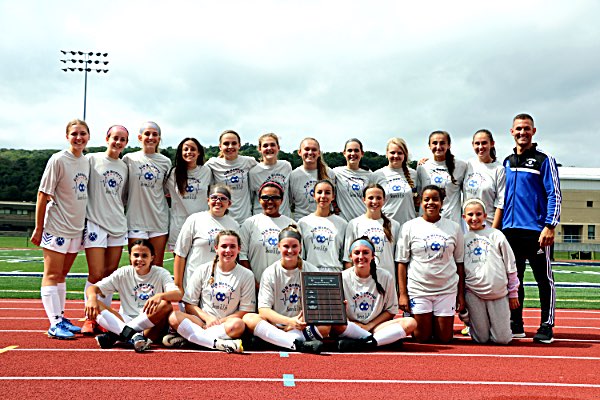 The Championship Game, held on Saturday, September 14th, would pit the Lansing Bobcats against the Newark Valley Cardinals (1-1). The match started with the Cardinals launching a flurry of shots on Bobcat goalie Iris Boerman but it would be a Lauren Evanek goal at 27:31 followed by Lulani Haslinger at 31:56 that would send the Bobcats into halftime with a 2-0 lead. A quick goal by Haslinger, assisted by Evanek, in the second half established a 3-0 lead the Bobcats would not relinquish. As the second half came to an end, the Bobcat defense would finish the game with another solid performance including goalkeeper Boerman saving all 16 shots on goal. It is easy to highlight individual stats, but the Lady Bobcats can raise the GLM Championship high because it was a Team effort.
Soccer is a Team sport. It takes individual commitment to a group effort to be successful. As the season continues to unfold and no matter what their final record may be, Coach Stickel and his Lady Bobcats will have done it as a Team.
v15i36