By

Steve Lehr

Sports

Print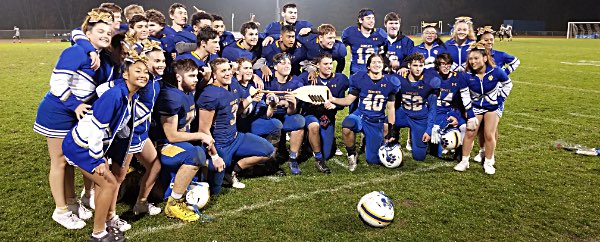 Getting to Trumansburg from Lansing takes a circuitous yet necessary route through the City of Ithaca and an additional 12 miles north up Cayuga Lake. As a rower rows in combination with a crow flying due west over the lake it would only be five miles. And as the rower needs a paddle so this Class C division rivalry continues a tradition of recent history known as the 'Battle for the Paddle'. Trumansburg joined the 8 man league this year as a start up of their program again and was looking for win #2 at the expense of the Bobcats.
Lansing Bobcat season starting tailback and linebacker Jake Babcock was on the field for the first time since week two. Babcock is the grandson of Hall of Famer Terry Teeter. Babcock hauled in a second half scoring pass. Lansing took a 14-0 lead in to the second quarter with two Brad Lehr touchdown runs of short yardage. Trumansbug came to compete and safety Ben Vincent made a saving touchdown tackle after a 42 yard pass play to the Lansing 5. On fourth and goal Blue Raider quarterback Ethan Fulton connected on a 9 yard pass to Dean Sheerer. Soon after the Bobcats' Vincent participated in another 40 plus yard play by scampering 46 yards for a score and a 20-6 lead.
Barely a minute later the open regulation sized football field of 8 man competition saw another quick score. Blue Raider QB Fulton tossed a long ball to receiver Aden Alexander and 6 more points for the visitors. Not to be outdone at the QB position Lansing's Vincent scored on three touchdown runs in the remaining six and a half minutes until halftime. The second of which was a would be sack that he escaped from and got loose for 44 yards to the end zone. The 40-14 score seemed closer than it really was. Trumansburg was making plays on the offensive and defensive side most of the half. However as the year has played out thus far the Bobcats have sustained leads for much of the season. The final tally was a 48-20 Lansing win and the paddle stays on display for the year in the school trophy cabinet.
Vincent finished with 147 yards rushing on 10 carries, Lehr 14 x 78 and Freshman Anthony McMillan 5 x 34. Vincent was 7 for 8 passing and 103 yards. On the receiving end Babcock had 36 yards Jake Brotherton provided 63 yards on 3 catches. Defensively the Cats were led by Carson Crandall 's 10 tackles. Thor Wierson, Brendon Mogyorosi, Brotherton and Lehr chipped in with seven or more. Gabe Santiago and Mogyorosi had multiple tackle for losses. Eric Kahn continued his playmaking ability on kickoff returns with an over 30 yard average.
The 6-0 Bobcats celebrated Senior recognition night with the fortunate position of having nine Seniors on the team. They are Brotherton, Wierson, Mogyorosi, Lehr, Kevin Patt, Tristan Lyndaker Nate Sill, Quin Coleman and last but not least starting center Mason Butler.
Up next is a divisional semi-final playoff round versus the Unadilla Valley Storm at Lansing this Friday 11/1 at 7pm. The Bobcats were victorius just two weeks back at UV 46-24.
v15i41