By

Breanne Beighto

Sports

Print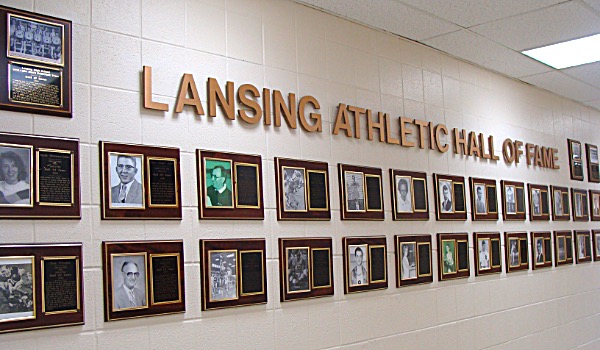 The Lansing Central School 2019 Athletic Hall of Fame Class includes Angela Ellis McLennan, Kim Van Pelt, Caitlin Wright, the 1998 Girls Softball Team and the 2007 Boys Bowling Team.


Angela Ellis McLennan
was a three-sport star in swimming, basketball and softball. She lettered five times as a swimmer. McLennan helped the LadyCat swimmers to five consecutive Section IV Class D championships. She played for Stuart Dean's LadyCats basketball team, lettering twice while helping them to a two-year record of 35-9, winning an IAC Small School Championship. She was a three-time letter winner in softball as well as a three-time IAC all-star. McLennan was a NYS All-State selection twice, as a catcher and again as a shortstop. As a senior, she helped Lansing to the Section IV Class D title before losing in the State Regional finals to Brocton.
Following her graduation, McLennan attended Ithaca College where she swam and played softball. She was an integral part in Ithaca College reaching the College World Series for the first time in 1996. McLennan is currently a successful high school volleyball coach at Trumansburg Central School, with a career record of 246-40. Her teams have won 12 IAC Division titles, four IAC Championships, three Section IV Class C Championships and have been NYS Regional Finalists three times. She was named the Ithaca Journal Female Coach of the Year in 2014.


Kim Van Pelt
was a 10-time letter winner at Lansing, earning four letters in swimming, two in basketball and four in track & field. In swimming, she was a three-time IAC champion and a two-time NYS qualifier. She captained the LadyCat swimmers as a junior and again as a senior. Van Pelt was named the team's Most Valuable Swimmer twice. In basketball, she helped Lansing to a two-year record of 36-6, while winning back-to-back IAC Division titles and two Over-All IAC Championships. Van Pelt was a four-time IAC All-Star in the discus and 400-meter relay. She was a three-time NYS Track Meet participant placing, sixth, third and second in the discus. Following her sophomore year, she qualified for Nationals in Raleigh, NC, where she finished 11th in the country in the discus. Van Pelt is still Lansing's record holder in the discus, 20 years after her graduation.


Caitlin Wright
was a 15-time letter winner at Lansing, earning one letter in Cross Country, five in Indoor Track and Field, five in Outdoor Track and Field and four in Swimming and Diving. Wright won the Section IV 400-meter hurdle championship four consecutive years. She won 20 Section IV and IAC championships. At the time of her graduation, she held school records for the indoor 200-meters, 400-meter hurdles, indoor and outdoor Long Jump and Triple Jump, 4 X 400 and 4 X 800 relay, Pentathlon and Distance Medley. In 2006, she was named the outstanding Senior Female Athlete of the Year. After graduation, she competed in indoor and outdoor track & field at Binghamton University, where she set multiple school records. She was an America East Conference member on the All-Academic team.


The 1998 Girls Softball team
was 22-2. In the IAC championship game, Lansing trailed Spencer by one run going into the top of the 7th and rallied to win 8-4. After three sectional wins, the LadyCats then defeated Seton Catholic 9-7 in the Section IV title game before losing a Regional contest to Section III champion Sandy Creek, 3-1. Lansing had five IAC All-Stars: Dixie Chaffee, Katie Crandall, Tami Swearingen, Billie Boles and Rachel Jackson. Lansing had three players named to the NY State All-State team, including first team members Katie Crandall and Billie Boles Downs and third team selection Tami Swearingen. The team's head coach was Cathy Haight. Assistant coaches were Adam Heck and Julie Wilcox.


The 2007 Boys Bowling Team
won the 2007 IAC title. This group of keglers then proceeded to win the Boys Section IV Class C championship. They scored higher than the Class A and B champions. This win earned the team a trip to the NYSPHAA State Championships in Buffalo. They finished in 6th place, against all schools, regardless of size. They were the highest finishing Class C team, making the Bobcats Class C NY State Bowling Champions. Team members were Kyle Christopher, Jon LaRock, Daniel Baldini, Philip Kulis, Ricky Newton and Kevin Quigley. Head coach was Doug Volbrecht and he was assisted by Bill LaRock.

Lansing's Hall of Fame induction dinner will be held Saturday, Nov. 30 at the Lake Watch Inn. Cocktails begin at 6:00 p.m. and the dinner is scheduled for 7:00 p.m., with the induction ceremony to follow.


v15i42