Obituaries | Friday, April 03, 2009 | By Perkins Funeral Home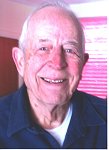 FREEVILLE - Jack Brookhouse, 87, formerly of Freeville, NY passed away Sunday, March 22, 2009.
He is survived by his wife of 64 years, Loretta Clark Brookhouse; his daughters, Sandra and George Ketola of Locke, NY, Sharon and George Suess of Halcottsville, NY, Donna and Stephen Carpenter of Dryden, NY and Peggy and Richard Case, Jr. of Groton, NY; 12 grandchildren and 11 great grandchildren. Jack is also survived by his brothers, Everett and Martha Brookhouse, LeRoy and Geneva Brookhouse and his sister, Doris and Tom Weller all of Michigan.