Obituaries | Tuesday, April 27, 2010 | By Lansing Funeral Home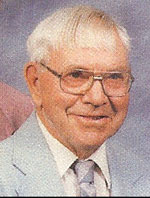 Clarence C. Benson, age 93, passed away Saturday, April 24, 2010, at the Groton Nursing Facility.
Born at home in Groton, NY, on January 4, 1917, he was a son of the late C. Fay and Marjorie (Buck) Benson. A 1935 graduate of Groton High School, Clarence was a lifelong resident of the Groton/Lansing area. He went to work dairy farming right out of high school and enjoyed his labor of love for over 50 years at Bensvue Farm on Lansingville Rd.