Obituaries | Tuesday, April 16, 2013 | By -Staff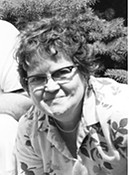 Wilma L. Doe, of Oakcrest Rd. passed away April 11, 2013, at Cayuga Medical Center at the age of 94.
Born August 30, 1918, in Spencer, NY, she was the daughter of the late Thomas and Mary (Weeks) Doe.
Wilma is survived by her brother, Eugene F. Doe, and her cousins, Gale Stockton (Neil), Sharon Campbell (Dale), Gary Argetsinger (Karen), Robert Argetsinger, Danny Argetsinger (Carol) and Helen Matejka.