Obituaries | Friday, August 30, 2019 | By the Voss Family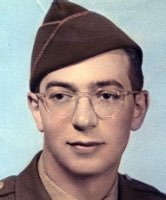 Fred Voss, 99, a Holocaust survivor and World War II veteran who spent years talking at high schools, churches, and other gatherings to keep alive the memory of the horrors of the 1930s and 1940s, died on August 30, 2019. Voss's speeches had a consistent message: Don't hate.
Born on April 12, 1920, in Aachen, Germany, Voss and his family fled the Nazis and came to the United States in 1940. He returned to Europe in the U.S. Army, serving in France and Germany in the months after D-Day. (He became an American citizen on the troop ship to England. His citizenship papers were signed by Commander Jack Dempsey, the famous prizefighter, who was the highest ranking officer on the ship.) In 2012, in honor of his work speaking to schools and his military service, the Lansing, NY, High School arranged for him at age 92 to receive the high school diploma denied to him by the Nazis.