Obituaries | Thursday, January 07, 2010 | By Herson Funeral Home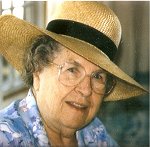 ITHACA - Laura Palmore Terwilliger, age 102, passed away on Wednesday, January 6, 2010, at the Oak Hill Nursing Home in Ithaca. She was born July 3, 1907, in King William County, Virginia, the daughter of the late Francis Wesley Palmore and Mary Roy "Mamie" Madison.
Laura attended a two room school house in King William County. Shortly after graduation, she traveled to Ithaca to visit some relatives. She enjoyed the area so much that she took a job on the line with Morse Chain and stayed in Ithaca for the rest of her life. She met and married Charles Terwilliger at age 18. Her husband was a pressman with the Ithaca Journal for many years, until his retirement. They lived on Tioga Street and then on the Ridge Crest Road. Upon her husband's death in 1981, she moved to Ellis Hollow Apartments and resided there beyond her 100th birthday. Poor health required her to move to Oak Hill Nursing Home where she was surrounded by caring staff for the remainder of her life.